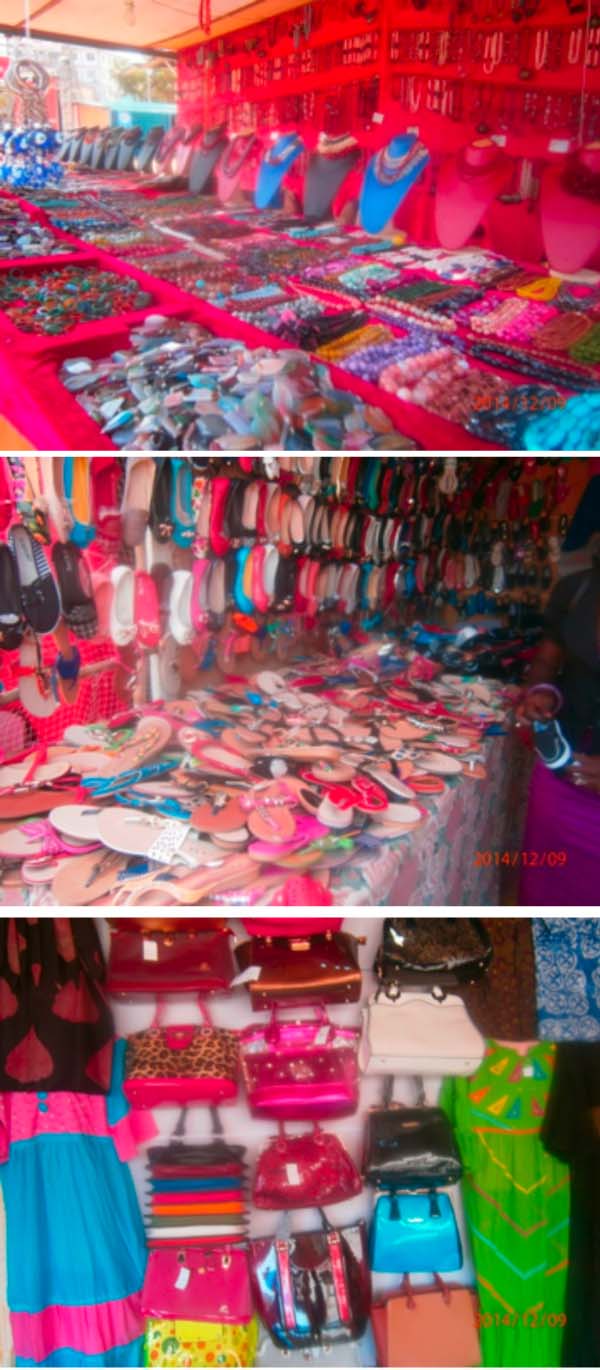 GCCI Marche Jula 2014 launched on 29 November 2014 at July 22nd Square in Banjul is indeed a site of attraction for women.
We all know that the bond between women and fashion is unimaginable. As such, they are the only ones that can feel it, touch it and wear it - no matter the cost.
It is clear that GCCI Marche Jula knows and feels this bond, and that being the case the Marche Jula fair has a lot of surprising fashion accessories for women and girls.
The latest fashion accessories are right under your nose at 22nd July Square in Banjul - and they wait for you to come and shop until you drop!
Spend the cash you worked so hard for and spend it on something worthy of spending it on.
Shopping is part of our daily life activities and some of us, especially women, are addicted to it.
Every now and then things, especially fashion accessories for women and girls, are becoming expensive with little or no quality attached.
Well, GCCI Marche Jula 2014 has taken the bold step in bringing you the best and the most quality fashion accessories to your doorsteps, and at a cheaper price.
Yes, it is Quality, Class and Affordable fashion accessories and the latest models.
Banjul, we all know, besides being the capital city is also a trading post. In fact, the best trading post that brings different people with different products and different tastes together.
Why not take a cab to Banjul and see for yourself what the GCCI Marche Jula holds for you?
If you are a career woman going to work - why not make it a weekend at the Marche Jula - and it will be the best weekend for you.
Better still if you are a girl going to school, tell mum and dad to give you a weekend at the Marche Jula - and it will be your best weekend.
Wondering what the Marche Jula has for you, your family or loved ones?
Well, wonder no more.
As you read along you will come across your taste, because with the GCCI Marche Jula 2014 everyone belongs.
Visiting the GCCI Marche Jula on Tuesday, I came across the Gamcel "Yaay Borom" stall, where they offer free internet access to customers and non-customers alike.
Also free SIM card registration, SIM card replacement, and a discount on their 3G products that will last until the end of the Marche Jula. So why not seize the opportunity and buy your 3G Dongles or Leisure?
From the Gamcel stall to Fatou Jaw, who sells chains, bangles, earrings made of precious stones or beads - all the way from Dakar - at a very cheap price for you and I who are so much in love with jewelry.
If it is quality, class or cheaper jewelry you are looking for - that will glitter through the night and splash under the sun - then GCCI Marche Jula is the place to be.
From the Jewelry stall, I came face-to-face with the Quranic stalls where they sell the Holy Quran at a cheaper price - all geared towards helping the Muslims who love to read or listen to the Quran.
Women, do you know that feeling you get when you wake up in the morning and come face-to-face with your husband reading the Quran -with that melodious voice you are crazy about?
There is nothing more pure and peaceful than listening to the Holy Quran in the morning. So go get your copy of the Holy Quran at the Marche Jula.
Proceeding to the Herbal medicines shop, there are lots of medicines ranging from for weight loss, ulcer, waist pain, sexual weakness, to stomachache and a lot of other problems we face daily, all at a cheap price.
I then entered the stall of Sohna Mai from Ziguinchor, who came along with beautiful, quality and pure African fabrics, dresses, bags and veils - just the way you like it.
The veils are pure cotton, pretty and will look great on whoever rocks them with long overalls; and the ladies bags look shiny with a very good leather that will last for decades.
Before paying high fares to shop in Senegal, the Marche Jula is here to ease that for you – since it has brought Senegalese goods to your doorsteps – and it is time you go to patronize the businesspeople.
For the ladies that are so crazy about European outfits - so much so that they cannot pass by one, if they see it – well, it is another site of attraction at the GCCI Marche Jula.
Tops and skinny Jeans of any shape, size, colour and taste is there for you to choose from.
That was the stall of Malick also from Senegal with quality, pure leather shoes that adds class to your outfit with different textures for your liking.
For the spray lovers, a stall owner from Tunisia came along with sprays and incence that when sprayed on your body, clothes, or in the house lasts long.
It is 100 per cent natural products from a Tunisian factory with good natural soaps that fight with any unwanted intruder on your body or face.
If you are a lady struggling with pimples, go visit Marche Jula, because if you do, pimples will leave you in seconds.
Finally, what will human beings do without food?
Food is even more important than fashion, because an empty stomach will not think or go for fashion.
That was why GCCI Marche Jula said if you go to shop until you drop and you are tired, take a break at the available restaurants at the Marche Jula, and greet your stomach with food it has never welcomed before.
The Big Tree Restaurant is just at the entrance of the Marche Jula. There is no need for you to ask for the exact location because the moment you enter the aroma will welcome you first.
GCCI Marche Jula said: Come, Shop and Eat at the same time!
Indeed, the Marche Jula is not a boring place. There is music from sunshine to sunset. The DJ plays all types of music and everybody, young and old, has your own share of it.
GCCI is coming up with entertainment during this weekend with BCC – it will be Slam G Clan at the Marche Jula - so that if you are going there for shopping you will enjoy it well.
Next weekend will see Jaliba Kuyateh on stage with the help of Gamcel – the Main Sponsors of the Marche Jula 2014.
GCCI appeals to you that read the She-She-she Column to go visit the stalls at the Marche Jula 2014.
I can vouch that you will find something useful to buy for yourself, family and loved ones.
As we get into the festive season it's Happy Marche Jula 2014!
Read Other Articles In Article (Archive)