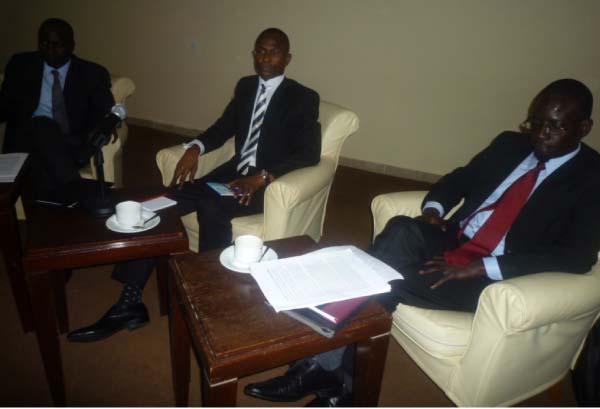 GCCI on Thursday organized a daylong business forum to discuss issues related to business in the country, as part of promoting the business sector in The Gambia
The day-ong forum brought together participants from the GCCI, GIEPPA, Central Bank, as well as other business institutions in the country, and was held at the Ocean Bay Hotel at Cape Point, Bakau.
The theme of the discussion was "Supporting sustainable enterprises in The Gambia".
Making his presentation at the forum, Ismaila Jarju of the Central Bank of The Gambia shared some of the thinking on diversification and growth in Africa that has come out of the recent research into the performance of African firms.
As amply documented, Africa has experienced a remarkable growth turnaround since the mid-1990s, and is attracting higher levels of investor interest, he said.
Estimates in growth on productivity as measured by the most comprehensive measure, total factor productivity (TFP), suggest that its growth rates are back to the levels of the 1960s, a time when Africa was doing well, he added.
He said the question is whether this growth is sustainable, and this in turn requires understanding its causes and nature.
On the causes, he added, the recovery has been helped by the huge cyclical boom in many commodity markets that started around 2002 and was sustained by growing demand from China, as well as global liquidity and low interest rates that encouraged investors to reach out to frontier markets.
However, he continued, the turnaround actually started around 1995, well before the commodities boom.
Growth has not been accompanied by accelerated structural transformation of the type that has accompanied rapid growth in other regions, in particular, but not only, in Asia, he stated.
Mr Jarju said sectoral trends show that Asian economies have made structural transformations, moving out of subsistence agriculture.
They have rapid increases in agricultural productivity and sectors "converging" towards relatively high productivity formal manufacturing and modern services, he said.
With the growth of these economies, he went on, the share of manufactured goods in the exports of developing countries increased from 20 per cent in the 1960s to as much as 80 per cent.
According to him, this pattern of convergence towards high-productivity sectors has become, for many, the "normal" pattern expected to accompany development.
This picture is different in Africa, he said, as even growing African economies have tended to remain dependent on primary sectors.
Some have transitioned away from agriculture, but largely toward informal activities, including construction and low productivity services, he said.
The employment share of manufacturing industry has remained small, especial the formal sector, he added.
"This pattern of growth raises questions about its sustainability and the ability of African economies to absorb their young, rapidly growing and rapidly urbanizing labour forces."
The concern has led to a shift from an emphasis simply on growth to include a focus on structural transformation and modernization, he further stated.
He said concern over the nature of growth has also led to a re-examination of the actual and potential role of government, in encouraging the structural transformation and "economic modernization" in Africa and also in other regions.
Countries have established consultative mechanisms to create bridges between government and private business, he said.
"It is not entirely clear why African economies are costly, but part of the differences in cost for firms relate to aspects of the business climate. Self-reported losses due to power outages can amount to over 10 per cent of scales in some countries," he noted.
In many countries, he said, over half of firms surveyed are forced to purchase their own generators, which adds massively to the cost of power, and transport emerges as another concern.
The impact of these costs does not fall uniformly on all firms, but are greatest for the firms in the middle of the spectrum, he said.
The political economy of the private sector is also changing with growth in African entrepreneurship and trans-African business, which, surveys suggest, operate much like other cross-border investors.
"These can help to complement FDI. They can also strengthen the political power of pro-business constituencies," he said.
"The experience of other countries suggest that it is not enough to formulate general policies; governments will need to focus on developing the capacity to encourage and accelerate these trends, including to encourage the skills and innovation to compete in a changing global economy," he stated.
Read Other Articles In Article (Archive)