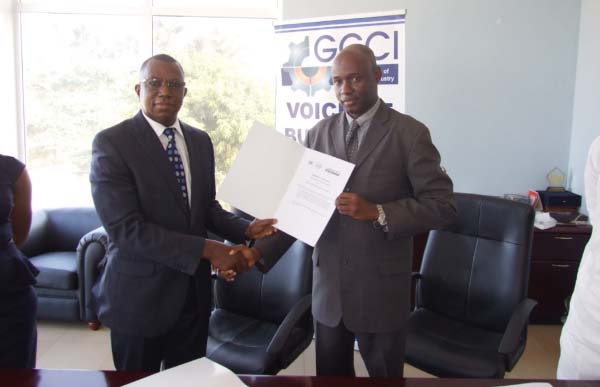 The Gambia Chamber of Commerce and Industry (GCCI) and the Gambia Investment and Export Promotion Agency (GIEPA) have signed a Memorandum of Understanding (MoU) to promote business and the Gambian economy through public private partnership.
This partnership has been a tradition over the years between the two institutions representing the private and public sectors, said both GCCI Chief Executive Officer Alieu Secka and GIEPA Acting Chief Executive Officer Musa Bah, whilst signing the MOU on 31 December 2013 at the GCCI Kerr Jula Secretariat in Kerr Serign.
The signing of the MoU, they said, is a new development that has gone further to taking the partnership a notch higher with more commitment, cooperation and collaboration in promoting entrepreneurship, trade, investment and business growth in The Gambia. 
"The strategic overlap and commonality of purpose between GIEPA and GCCI provides a framework for cooperation, collaboration and partnership," the MoU stated, adding that this will be pursued initially through the organization of identified activities.
According to the MoU, GIEPA and GCCI shall cooperate initially on a portfolio of projects, which include promotion of public private sector dialogue on thematic issues related to doing business  in The Gambia; establishment of the Gambia Competitiveness Improvement Forum; provision of Business Department Services to economic operators; building capacity of MSMEs; awareness creation on policy matters through dinner lecture series; organization of trade fairs, trade and investment promotion missions.
The MoU, which shall remain in force for a period of three (3) years, also stated that for the implementation of the above mentioned projects, GIEPA and GCCI shall share the cost of funding some pertinent activities relevant to the aims and objective of MoU.
These include partnership in implementation of the Business Incubation Centre (BIC), Collaborate to create awareness on "hot topics" that affect the private sector, such as taxes and, business registration; jointly organize local trade fairs; facilitate the participation of economic operators in international trade fairs and events; partnership in all MSME development programmes; partner in establishing an Enterprise Development Fund; jointly organize overseas trade and Investment missions; provide support in advocacy for increased private sector access to government contracts; jointly organize National Economic Summit annually; facilitate the organization of quality meetings with key government ministers; partnership in undertaking research for evidence based advocacy; and where possible, provide space to the GCCI in future GIEPA satellite offices in the various administrative regions.
Furthermore, the MoU stated, the collaboration activities between the GCCI and GIEPA will be established on the basis of an indicative work programme that would be mutually agreed on an annual basis.
"This would be achieved through periodic consultation as per guidance of the agreed work programme schedule," the MoU states, adding: "The annual work programme should be agreed upon by the 31st January of each year."
While the GCCI is non-political, non-profit making , self-governed, voluntary business organization established in 1967, with the principal functions of providing essential business services  to the private sector in general and its members in particular, as well as lobbying for a favourable business environment; GIEPA is a corporate body created by legislation in July 2010 in The Gambia, with functions such as formulating and implementing  investment, export and enterprise development guidelines and investment  promotion strategies, as well as  promoting and facilitating the development of micro, small and medium enterprises.
The signing ceremony was witnessed by GCCI Business Development Manager Sarata Conateh and GIEPA Director for Enterprise Support and Development Momodou Drammeh.
Read Other Articles In Article (Archive)