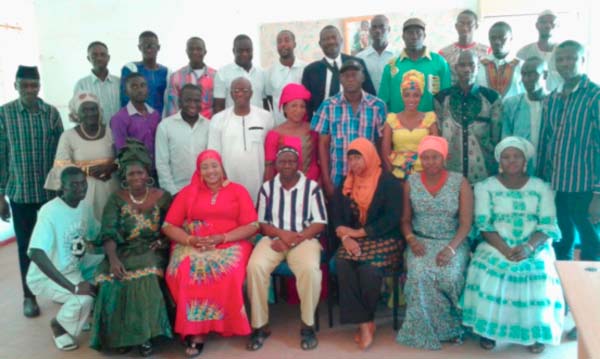 The Governor of Upper River Region has re-emphasised government's commitment to the growth of Small and Medium Enterprise (SMEs) to enhance economic growth and sustainable development.
The synergy was held recently in Basse Upper River Region.
Governor Omar Sompo Ceesay was speaking at a day's retreat of Regional EMPRETEC FAMILY FORUM across the country, organised by Gambia Investment and Export Promotion Agency (GIEPA).
He hailed the country's vice president Dr Isatou Njie-Saidy on behalf of government for facilitating the design of EMPRETEC project with funding from the UNDP.
Governor Sompo Ceesay used the moment to call Regional and National Executive members to be vigilant and operate within the framework of the constitution that governs its operation.
Momodou Drammeh, EMPRETEC Project coordinator, in his opening statement, described the event as another milestone in the advancement of entrepreneurship in the country.
He disclosed that the project's 18 months of operation, has registered great achievement, noting that the concept of entrepreneurship remains a household name, as it contributes to economic growth and creates self-employment opportunities for the youth.
The EMPRETEC coordinator lauded the efforts of entrepreneurs and the Business Development Services Advisory for their "invaluable contribution" to the attainment of project objectives, saying the intervention had contributed to the realization of the growth of small businesses in the country.
Suwaibou Cham, Research and Survey Manager, and who doubles as Business Development Service manager, noted that the retreat would help members to select an able National Executive Committee of EMPRETEC FAMILY that would steer the affairs of the regional chapters to accelerate the development of SMEs in the country.
The forum helps to workout modalities of the chapter, such as registration procedure, develops annual work plan for 2016/17 and, by extension, supports the chapters with credit unions.
Hammey Jawara, Sector analyst at GIEPA, dilated on the significance of credit union and how regional and national executives can establish credit unions, with the view to supporting EMPRETECOs to enhance growth of small businesses.
The forum was attended by the regional EMPRETEC FAMILY FORUM members across the country. The day-long retreat accorded members the opportunity to critical review the draft constitution and adopted it as a legal document for the advancement of regional and national EMPRETEC FORUM.
The programme was chaired by GIEPA's Public Relations Manager and Communication Officer Sadibou Jammeh.
Read Other Articles In Article (Archive)