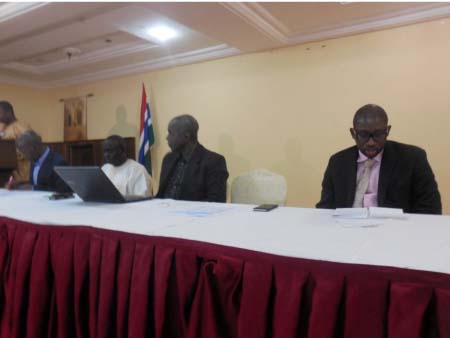 The Gambia Bureau of Statistics yesterday started a two-day forum for users and producers of statistics at a hotel in Kololi.

The forum was geared towards sharing with stakeholders the level of data availability within the National Statistical System (NSS).
The two-day event was part of GBoS' commemoration of this year's African Statistics Day on the theme 'Strengthening economic statistics for regional integration, structural transformation and sustainable development'.
Nyakassi M.B. Sanyang, statistician general, said strengthening dialogue between producers and users of statistics should be a core activity of every national statistics office.
He said such dialogue helps in the overall coordination of statistical activities as it provides both parties with relevant information on what prevails in the statistical environment.
In The Gambia, GBoS annually organises such forum on November 18, the time all relevant statistical authorities in Africa commemorate the African Statistics Day.
"This year, the time coincided with so many activities taking place which involved key stakeholders and hence the event could not be held at the time," Mr Sanyang.
He further noted that over the years, the celebration focused on issues related to the importance of statistics in development planning and policy formulation.
Baboucarr Sarr of the National Statistical Council said good economic data are a precondition to effective macroeconomic management.
He explained that with the complexity of modern economies and the lags inherent in macroeconomic policy instruments, every country must have the capacity to promptly identify any adverse trends in its economy and to apply the appropriate corrective measure.
"This cannot be done without economic data that is complete, accurate and timely," Mr Sarr said.
"The availability of good economic data is increasingly seen by international markets as an indicator of a country that is a promising destination for foreign investment."
The public availability of reliable and up-to-date economic data also reassures international investors by allowing them to monitor economic developments and to manage their investment risk.
Sarr noted that slow and incomplete reporting of critical economic data creates uncertainty.
He said: "The public availability of good quality economic data allows firms and individuals to make their business decisions with confidence that they understand the overall macroeconomic environment.
"As with international investors, local business people are less likely to overreact to a piece of bad news if they understand the economic context."
On behalf of the UN Resident Coordinator, Abdoulie Janneh, UNDP national economist, said the two-day forum organised by GBoS has the potential to help in the strengthening dialogue between producers and users of statistics in The Gambia.
Read Other Articles In Article (Archive)