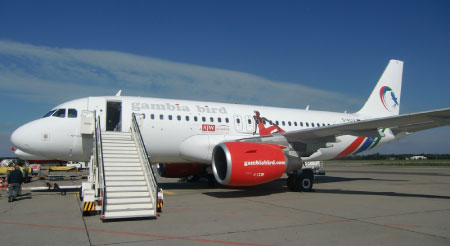 The gateway to West Africa is set to open wider as Gambia Bird, a new Gambian airline, flew into Banjul for the first time.
The pristine A319-100, which is branded with the national colours of The Gambia, will seat 138 passengers in premium economy and economy class, and offers a full range of in-flight hospitality.
"We are happy to announce that a new airline will start service out of the airport of Banjul, The Gambia," Karsten Balke, chief commercial officer Gambia Bird Limited, said at a press briefing held at the airline's head office along Kairaba Avenue on Sunday.
He announced that flights will commence later in summer, and the airline will not only connect Banjul to other West African airports but also link Banjul to Europe.
"This heralds a new beginning for the aviation market in West Africa, a region that is developing a dynamic business infrastructure alongside expanding tourism and leisure facilities," Balke told journalists.
Their vision is to change the aviation market in West Africa by providing a safe, reliable and scheduled service across all major cities in the region focusing on air travel for business people, tourists and domestic traffic, Balke said.
Alongside local West African expertise, warmth and friendliness, Gambia Bird is supported by the Germania Group, a German airline with 26 years wealth of experience in the aviation industry throughout Europe, the Middle East and North Africa, he added.
Balke announced that from Monday 1st October 2012, Gambia Bird's schedule commences with Premium Economy and Economy Class flights to Dakar, and that scheduled flights to Conakry, Freetown, Monrovia, Accra, London-Gatwick and Barcelona will follow throughout the week.
Malleh Sallah chief administrative officer of Gambia Bird Limited said the new airline opens a gateway to West Africa that brings safe, reliable and exceptional air travel within the reach of every customer.
"Everyone has a stake in the future of Gambia Bird, the business people who need a punctual scheduled service, the tourists from Europe and other African countries who enjoy the special West African hospitality and friends and families working in Europe who want to visit home.
According to him, the purpose of the project is to bring a sustainable and affordable airline for The Gambia, and that with its operations the tourism sector will be booming.
Sallah disclosed that the project has a greater component for capacity building such as training young Gambians, and already about 10 Gambians have been identified and sent to Germany for training on the technical aspects and other flight operations procedures.
Sallah used the opportunity to thank the government of The Gambia for creating the enable environment for making Gambia a safe haven for investment, adding that this will attract a lot of investors into the country.
Read Other Articles In Article (Archive)