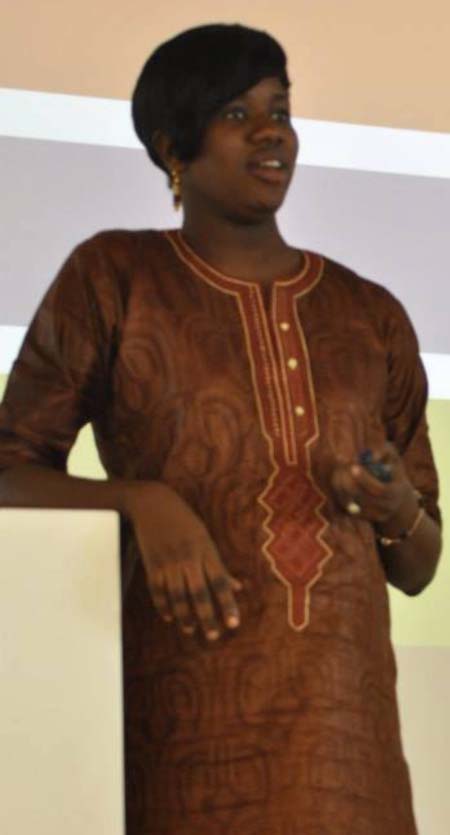 The president of The Gambia Youth Actors Association (GAMYAA), Matty Jobe, recently returned from Germany where she attended a ten-week theatre fellowship with 17 others around the world.
She was not only from The Gambia but the sole representative of West Africa.
Speaking in an interview with The Point Entertainment & Lifestyle shortly after her return, Mrs Jobe, president of GAMYAA, said the trip was a successful one, noting that her dream plan is therefore aimed at providing training for youth groups working in theatre or drama, to develop their talents and enable them to attract roles not only in theatre, but in the growing film industry as well.
According to Madam Jobe, the intention is to run local training programmes that will not only improve their skills in acting, but also provide them with basic knowledge on producing and marketing their own products.
"I am working on a ten-month implementation programme called Theatre for Development," she said.
Theatre for Development is a development practice that aims to use theatrical performance as a participatory tool to help individuals and groups share their experiences with the intent of social transformation.
It offers a practical and theoretical exploration of the ways in which the arts can be used by communities to create social transformation on their own terms.
The National Centre for Arts and Culture is a statutory institution responsible for the preservation, promotion and development of arts and culture in The Gambia.
As a Performing Arts Officer in the Department of Literature, Performing and Fine Arts, Matty Jobe works directly with artists, artistic groups and associations engaged in music, dance, drama, and other cultural manifestations with a duty to help build capacity in these areas.
She is also the founder of the Gambia Youth Actors Association (GAMYAA), a youth association devoted to building talents in the domains of music, theatre, dance and film.
It will be implemented by the National Centre for Arts and Culture (NCAC), in collaboration with other stakeholders in theatre and the local communities.
Training will be conducted in a master class of training of trainers (TOT) of the 5 regions and two municipalities in which 5 participants will be selected from each of the regions and the municipalities.
These trainees will in turn become regional trainers who will transfer their skills to newly formed theatre groups in their localities. 
Mrs Jobe further explained that these groups shall produce their own local stories through theatre on key issues and distill information to communities to create a self-sustaining tool for dialogue and to effect government policies.
Periodically they shall stage regional performances and finally a national theatre festival yearly.
"I am therefore calling on sponsors, partners and stakeholders to be partners and to help the young people discover the social life that is hidden within them and I can only assure and guarantee that theatre can definitely do that," Madam Jobe said.
Read Other Articles In Article (Archive)