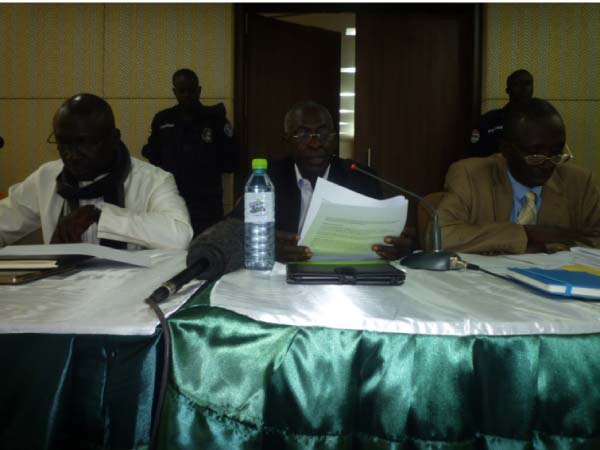 Following a long debate on Monday at the National Assembly Chambers, the joint session of the Public Accounts Committee and Public Enterprises Committee (PAC/PEC) of the National Assembly finally adopted the Gamtel/Gamcel financial report, for the year ended 31 December 2013.
Babucarr Sanyang, Managing Director of Gamtel, thanked the PAC/PEC for taking their time to go through the report, and adopting it.
He said through the active support of Gamtel management, the institution has, during the year in question, signed a Memorandum of Understanding (MoU) with the African Advanced Level Telecommunications Institute (AFRALTI) in Kenya, and Ghana Telecoms University College (GTUC) in Ghana as part of efforts with other IT telecommunications and new technology specialist institutions.
These agreements would avail GTMI the ability to offer her clients the most relevant and cost-effective capacity building interventions for improved productivity, he said.
In the same vein, he added, it had also created an avenue for Gamtel/ Gamcel to train her telecoms engineers to degree level at highly discounted rates.
He added that as part of the partnership, AFRALI/GTMI were able to train over 60 people from Gamtel, Gamcel and QCell in programmes such as organizational knowledge management, Huawei Certified Datacom Associate (HCDA) and Strategic Marketing in the Telecoms environment.
Bai Matarr Drammeh, vice chairman of the board, said on 12 July 2011 a joint agreement was signed between the Gambia government through the Ministry of Finance and Economic Affairs with six companies, namely Africell, Gamcel, Comium, QCell, Netpage and Unique Solutions to establish a public-private-partnership financing agreement worth 25 million dollars.
The partnership was effected to jointly contribute towards the cost of financing the Africa Coast to Europe Submarine Cable (ACE), including stations in The Gambia, he added.
Read Other Articles In Article (Archive)