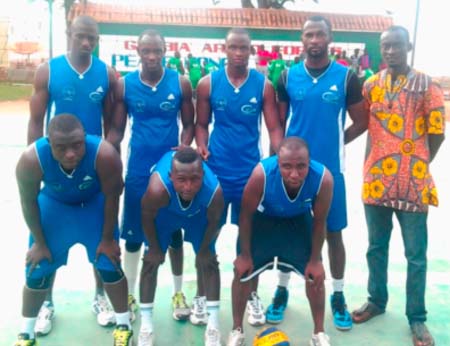 The excitement and the motivation at Gamtel/Gamcel is revived after humiliating one of the league's strongest sides GAF in a 5 sets thriller at the Fajara Barracks on Sunday.
The visitors claimed a 3-2 win (25-22, 21-25, 21-25, 25-23, 8-15) to establish themselves in the top three.  Gamtel/cel went off to a shaky start, making several errors.
However, they quickly recovered to level the score at 9-9 with a nice spike from SanuSecka.
Both sides performed equally well, each taking a few points apiece up till 15-11, where a long rally with several impressive saves saw the point eventually go to GAF.
From that point, the point gap gradually began widening up till 25-17 for GAF, where a nice spike from Alieu Barry allowed the soldiers to gain the first set.
Gamtel/cel came into the second set with more urgency and purpose. Sensing the imminent threat of being unable to recover, the GAF coach called for a time-out to dispel advice to the team at 13-17.
However, Gamtel/cel rode on their momentum to pull away till 19-23, where another time-out was called. The visitors managed to gain a point following an out ball from GAF and eventually took the set 21-25.
Early on in the 3rd set, Gamtel/cel were the ones who posed the threat and indeed scared their opponents. Impressive teamwork where it was almost scarily instinctive how the timing between players was coordinated allowed Gamtel to dominate the 3rd set 21-25.
But GAF held onto to their spiking prowess from Alieu Barry and Famara Bojang to win the 4th set 25-23. With two sets in the bag for both teams, a deciding set for first to 15 was the only alternative to declare a winner.
GAF knew it was their last shot, and fight they did. At 4-10 to Gamtel/cel, the following rally left even spectators gasping for air, where both teams displayed superb spikes, blocks, and saves, with the points eventually going to Gamtel/cel to win 8-15. At the end of it all, Gamtel/cel may not have emerged winners, but the effort the telecom boys put in was commendable, and they certainly won in spirit, determination and mental fortitude.  
Read Other Articles In Article (Archive)