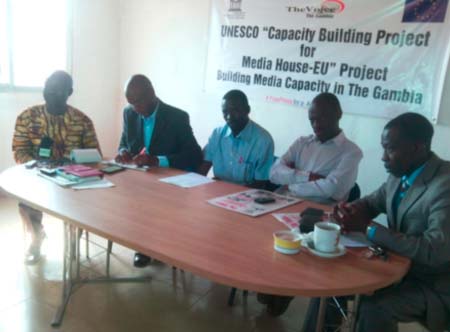 The Voice Newspaper Monday commenced a 10-day in-house training at its media house in Serrekunda.

The training, bankrolled by UNESCO-EU training project, was aimed at building the capacity of journalists in the country.
Delivering a statement on the occasion, Malick Jones, deputy permanent secretary at the Ministry of Information, Communication and Infrastructure, said the training was very important for journalists in doing their work.
DPS Jones called on journalists to be specialised, which, he said, is very key as a profession, adding that journalism is a noble profession.
He said the workshop has come at the right time as it is an opportune moment in the new dispensation in the political history of the country.
"We have a new government that has made pronouncement of media freedom, which is very good news to all journalists," he said.
Mr Jones also called on journalists to inculcate the idea of research because research is a fundamental principle of journalism.
Musa Sheriff, managing director and editor-in-chief of the Voice Newspaper, in his welcoming remarks, thanked all those who attended the function.
He said the Gambia media is getting more capacitated and professionalised by the time hence the project was part of building the capacity of journalists in the country.
"The EU and UNESCO decided this year to assist each media house to do it in their own way because it will make their work easy for them," the Voice editor-in-chief remarked.
Mr Sheriff said the training would go a long way in helping Gambian journalists to do their work effectively, adding that journalists have a lot of challenges in doing their work.
In his remarks on the occasion, the deputy director of the National Centre for Arts and Culture, Hassoum Ceesay, said that in the past regime the Voice Newspaper stood out for being consistent in defending democratic values and human rights, as they followed a line which many people hated them for and even exposed them to some dangers.
"We have to commend you and your staff for the fact that you have survived for your 10-year anniversary," Mr Ceesay, who is also an author, said
The Coordinator of the UNESCO Project, Papa Njie, in his address, said the project implementation started some three to four months ago, and they now rely on the young journalists to take the mantle and move forward with the project.
He commended The Voice and its editor-in Chief, Musa Sheriff, for implementing the project in the right way.
Read Other Articles In Article (Archive)