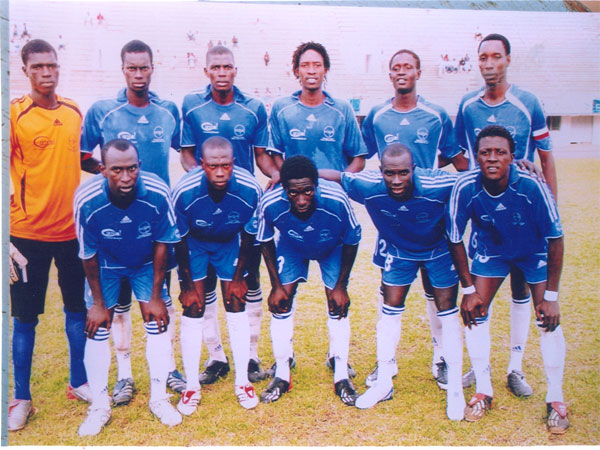 Mustapha Manneh, the head coach of Gamtel FC, has said that having collected the three points, and scoring three goals against Horoya FC, was enough for them, adding that this gives them an advantage anywhere.
He added that he was happy with the win, because they want to set a record for The Gambia.
When put to him that the Horoya FC Coach said they would beat Gamtel FC by 4 or 5 goals in Guinea Conakry, his response was, "Let's wait for that day".
When asked why he took off Nabi Darboe in the 23rd minute of the game, he said, "Nabi's performance was not impressive today, and in The Gambia we wanted to have a convincing win; so we cannot afford to lose any minute in the game. This was why we had to take him off, and brought in Malamin Singhateh".
"If he did not perform well, I have all rights to substitute him so that we can have what we want", he added. Manneh think this was why they got the three points and three goals, which is enough for them going into the return leg in Guinea Conakry.
Manneh also said that Ramadan has contributed to their performance, but was quick to note that they needed not to waste their energy because they had already got what they wanted - three goals and three points.
When put to him that, "this game was almost called off before the arrival of Horoya FC in Banjul, when they mentioned that they were not coming, but later came at a late time", and asked how did he work on the physiology of his players to get them back on track for the game, he said, "I knew that Horoya FC will come. They were using strategies to distract us, but technically we prepared very well for this game".
Theophit Bolla, head coach of Horoya FC, said his team lost two key players (the central defender and a half back) coming into the game, which was why his defence could not control the game, but added that Gamtel FC are not a team to contain them.
He stated that his side is a good team that will beat Gamtel FC by 4 or 5 goals in Conakry, because they are a big team that is used to this kind of competitions.
"Gamtel FC were just lucky to win today, but they are not that good a team to eliminate Horoya FC in the competition", he stated.
He added that the referee contributed to their loss, because "he was applying rules that are since 1990", adding that the referee was not at a level to control the game.
"I am not saying that the Gambian team cheated, but what am saying is the referee was not the better person to handle this game today", he noted.
He concluded by saying, "the Gambian people were supportive, and I like the environment where the game was played".
Read Other Articles In Article (Archive)