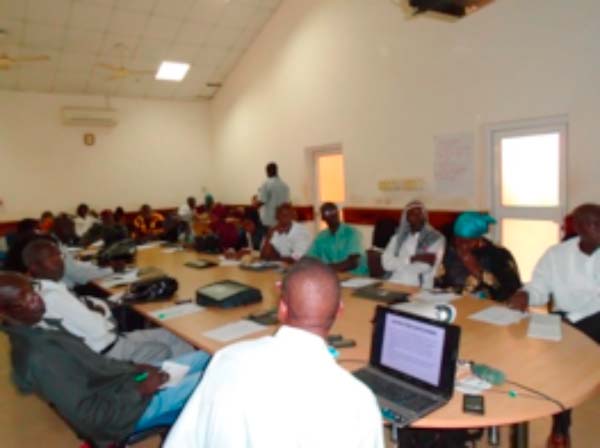 The Gambia Network of AIDs Support Societies (GAMNASS) and the International Treatment Preparedness Coalition West Africa (TPC WA) in collaboration with Global Fund, is conducting a four-day training for 35 Community Treatment Observatories, which includes 12 data collectors and 23 CCGs on HIV treatment activists.

The objective of the project funded by the Global Fund is to strengthen the capacities of Treatment Activists on the management of the ARV Supply chain and techniques, reinforce the strategic information on services delivery, reinforce the leadership of PLHIV to influence HIV treatment, care and supply policies and protocols- treatment access advocacy.
According to officials, the four-day training being held at CIAM conference hall in Kanifing, is expected to build the capacities of 35 Community Treatment Observatories.
In his welcoming remarks, the President of The Gambia Network of AIDS Support Societies, Ebrima Sarr, informed the gathering that the objective of the training was to create a regional treatment observatory and to build their capacities in treatment monitoring.
He disclosed that GAMNASS has been working with the International Treatment Preparedness Coalition of West Africa ITPC to achieve its intended aims and objectives, although with minimal resource to conduct its activities.
According to him, GAMNAS is the umbrella organization of PLHIVs and both a member of the CCM and ITPC-WA.
"As an umbrella organization GAMNASS builds the capacities of its 11 member organizations to provide care and support service to PLHIV and hope for a world in which communities' access basic preventive services and quality treatment for PLHIVs is guaranteed," he assured.
In his presentation, the Program Manager of GAMNASS, Samba Sey, emphasised more on the significance of the training, noting that it would help to improve the knowledge and skill of data collectors in treatment and educate them with directly applied knowledge throughout the project implementation.
Mr Sey expressed expectation that after the training the data collectors would have the knowledge to confidently engage in discussions about the science of HIV, and HIV treatment and prevention.
"HIV can be transmitted through a personal body fluids, blood, semen, vaginal fluid and breast milk," Sey explained.
For her part, Alimatou Jallow, HIV treatment coordinator from the National AIDS Control Programme also made a lengthy presentation on the science of HIV treatment, what HIV Treatment is and WHO guidelines.
According to Ms Jallow, there is no cure foe AIDS, but HIV is treatable with medication and its treatment is called antiretroviral therapy which involves using drugs known as antiretroviral (ARVs) in the treatment.
Read Other Articles In Article (Archive)