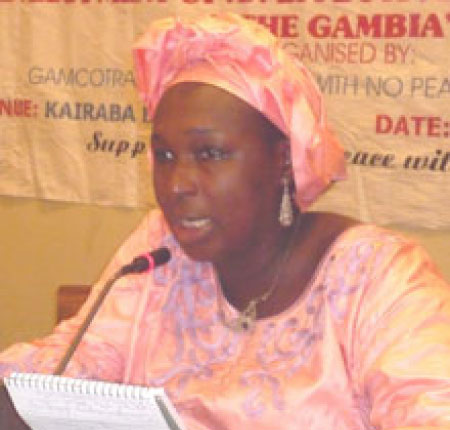 As part of its efforts at eradicating female genital mutilation (FGM) in the country, Gamcotrap on Tuesday trained twenty-five of its members on advocacy skills.
The aim of the workshop was to create a favourable environment for the implementation of programmes aimed at eradicating FGM in The Gambia.
Speaking in an interview with The Point, Amie Bojang Sissoho, assistant executive director of Gamcotrap, said the training is part of a three-year programme to reach out to the West Coast Region and creating awareness on FGM.
"We have been conducting the programme, Mrs Sissoho said, adding that the participants who have been trained as community-based facilitators (CBF) have been identified by their communities and they know about the effects of women and children's rights
Madam Sissoho said the training is about advocacy skills to be able to reach out more effectively as well as receiving and giving feedback about the situation of FGM in the Kombos in particular.
"These people have explained the success they have made as well as the constraints they have," she added.
"After this training we are going to have community sensitization to raise awareness at the grassroots community level.
"We are going to Busumbala, Sukuta, Brufut and some of their surrounding communities to raise awareness on FGM and other women rights statutes."
Aunty Marry, senior programme coordinator of Gamcotrap, commended all those who attended the workshop, while urging the participants to make best use of the workshop.
This training, she noted, is seen as something very important in helping them to do their work effectively.
"You were chosen to be able to make a difference in your area," Madam Marry told the participants.
Let us come up with issues and look at the constraints and problems of FGM.
The project area targeted is in the West Coast Region, to work closely with key targeted groups such as security officers, key stakeholders, community-based facilitators, community leaders (both men and women), religious leaders and teachers.
Read Other Articles In Article (Archive)