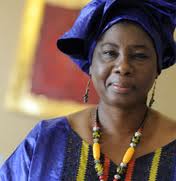 The Gambia Committee on Traditional Practices Affecting the Health of women and children (GAMCOTRAP) on 6 July 2013 took yet another bold step towards the fight against Female Genital Mutilation (FGM) in the country by sensitizing the District of Kombo East, West Coast Region, on the harmfulness of FGM.
The day, which brought together more than hundred participants from villages all over Kombo East District, included community leaders, Imams, alkalos, ward councillors, and the chief of the district.
The occasion also addressed the effects of FGM, the right of children and women among other issues.
Speaking on the occasion, Gamcotrap Executive Director Isatou Touray commended the community of Kombo East for sparing time from their farm work to attend the occasion, and prayed for a fruitful rainy season.
Dr Touray said they had not conducted the occasion to force anyone to abandon FGM, nor were they out to fight religion, culture or tradition. They were instead in to raise awareness on the harmfulness of some traditional practices as well as to promote and protect the rights of women and children, she said.
She emphasised the importance of dialogue and respect for different and divergent opinions.
A study by doctors has revealed that most of the females undergoing operation during delivery are mainly women that have undergone FGM, Dr Touray stated.
"The practice has been in existence for quite a long time now but by coming together we can fight this harmful practice," she said, adding that it is due to ignorance people are still practising FGM.
Dr Touray, who said she has learned and memorised the Holy Quran, added that she had not seen any verse in the Quran that says people should practise FGM.
Allah has sympathy for women, she notes, challenging her fellow women to learn the Quran and know what it contains.
Amie Bojang-Sissoho, programme coordinator of Gamcotrap, said culture cannot be changed in a day especially if it is something that people have grown to like, but by coming together "we can fight to abandon FGM".
While calling for the abandonment of FGM, she said women undergo and encounter terrible physical pain during circumcision by bleeding too much, making it difficult for their husbands to penetrate during their first night of marriage, and also such initiated women encounter difficulties giving birth to the extent that some of them had to be operated upon, which is due to FGM.
"Most women who underwent Female Genital Mutilation do not fulfill their marriage obligations in their marriage houses and keep giving out excuses to their husbands in the marriage or during night bed everyday all because of the pain they encounter during intercourse, which is all as a result of FGM," she said.
Ms Bojang-Sissoho also said FGM scars harm children or women who undergo this practice and make them suffer pain from the day they were circumcised to the day they were given to their husbands and even during giving birth, adding: "They do not want their children or grandchildren to face the difficulties they have encountered."
She called on the participants to make best use of the sensitization campaign by throwing away the bad traditions and cultural practices, saying: "A woman should not die giving birth."
Alhagie Basiru Jarju, Chief of Kombo East District, says he is not a stranger when it comes to attending Gamcotrap activities. He therefore welcomes the activists to his district.
Nfansu B.K. Conteh, who has served as Alkalo of Faraba Bantang for 9 years, while giving words of encouragement to Gamcotrap, said that even the Prophet Muhammed (S.A.W) had difficulties spreading Islam in his own community but things later went well for him to the extent that people are now going to Mecca for hajj. 
Jung, as he is widely called, said: "Since the practice is harmful, we should abandon it."
Mr Conteh described Gamcotrap as good citizens of the nation, thanking them for the campaign.
Oustas Muhammed Sano also spoke at length on FGM, the rights of women and children among other related issues, as did other speakers such as Morro Bojang, Alkalo of Pirang.
Read Other Articles In Article (Archive)