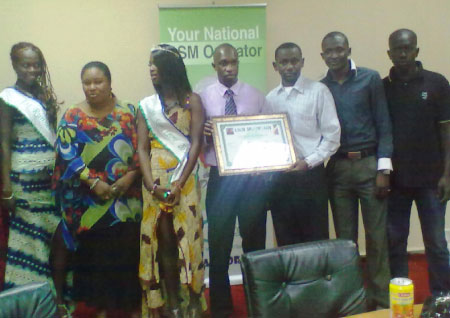 The National GSM operator, Gamcel, sponsored of the Lion Mountain production beauty pageant of Ms Sierra Leone, has announced it will award 12 scholarships to Sierra Leonean children.
Lion Mountain Production official said this during a thank you tour to Gamcel headquarters on 3 July 2012.
Speaking at the ceremony, Alieu Kalley Gifted Koroma, chairman of Lion Mountain, said they are a non-profit making organization aimed at helping Sierra Leonean youth to expose their talents to work towards achieving their career goals.
He adduced that the purpose of Miss Contest was to raise funds to help needy Sierra Leonean kids in The Gambia.
"This year we are going to give scholarships to 12 Sierra Leonean kids," he asserted, adding that all this was possible with Gamcel.
According to the Lion Mountain Production chairman, since the inception of the organization, Gamcel has been very supportive of them.
He expressed appreciation to all, saying Gamcel is promoting the lives of the people.
He indicated that the winners of the pageant will be visiting six schools to talk to students and indentified the beneficiaries.
He announced that the presentation will be held next week at the Sierra Embassy in Banjul.
Speaking earlier, Manyima Cham, manager - marketing and communication, said she was delighted to be working with Lion Mountain Production, adding that their partnership has existed for 10 years now.
"In sponsorship we want to see the return not in cash," she said, noting that what Lion Mountain has given them is overwhelming.
For her part, Ramou Nyass Hydara, Gamcel senior marketing manager, said they have been in partnership for a very long time.
"This shows what Gamcel is all about. We believe in sharing, caring, helping society directly or indirectly," she said.
The people of The Gambia and Sierra Leone have a very long history, she said, adding that their partnership with the association is a win-win situation and is a relationship that they all cherish.
"We are winners and we want to partner with winners," said Madam Nyass, adding that their partnership was not a coincidence but a well chosen one.
She also said that Lion Mountain initiatives are great and a step in the right direction.
Meanwhile, the contest winners were Sophia Byass 1st winner, Edna Carney 1st runner-up and Yeama Mariam Palmer 2nd runner-up.
They all expressed satisfaction and thanks to Gamcel for making it possible for them.
During the visit, the association also awarded Gamcel with a certificate of appreciation.
Read Other Articles In Article (Archive)