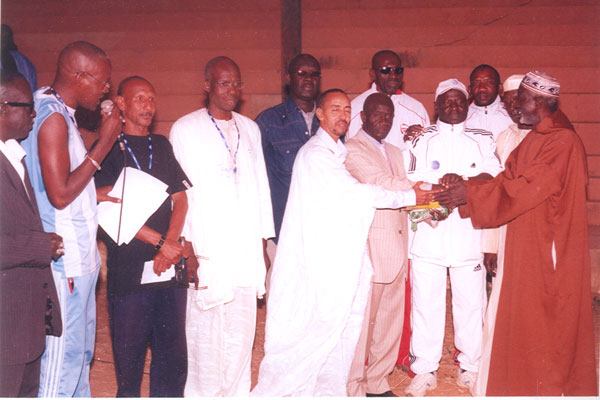 At the week-end of 27-28 December, The Gambia football Veterans raised the Gambian flag high in Senegal. Accepting an invitation from Thies, Senegal, for an international tournament, The Gambia Veterans maintained an impressive performance of cohesion and fitness to lift the coveted regional trophy.
The tournament however, was not just about football.
It was a mission with the wider objective of promoting peace, friendship and cooperation among countries of our West African region.
Three teams comprised the first series of the events, namely Mauritania, Senegal and The Gambia.
The subsequent events will progressively bring together more countries, namely Mali, Guinee , GuineaBissau, Cape Verde.
The championships were therefore played in the most cordial of atmospheres as bother met brother, and families joined hands of friendship, kinship and mutual cooperation.
This friendship and cooperation is intended to grow from strength to strength.
There was much shared joy and laughter among the mixed delegations. It was beautiful to watch and to experience, as mixed nationals lived and portrayed a shared African heritage. The first night, it was the Mauritanians who took the stage to provide an enthralling night of Mauritanian music, dance, and culture.
The dance / music ensemble gave a sensational rendition and manifestation of traditional song and dance.
It was made more cordial, and charged with African rapture when Gambians got captured into the Mauritanian dances, and the Senegalese too.
The Mauritanian dancers would put their gowns over a Gambian or Senegalese  and that required one of them to take the dance floor and afterwards put the gown over someone else to take the floor.
The Mauritanian group included both men and women dancers, musicians and singers.
The second night brought on stage  Serere Musicians and dancers.
The results were similar :enthralling, engaging, and perfectly creating love and harmony among brothers and sisters of similar West African heritage.
This friendship and cooperation has been intended to grow from strength to strength. Such pursuit was overtly expressed in speeches from  Senegalese Veterans president, Muhamed Fadel Fall, Gambian Veterans president, Amadou Touray, and Mauritanian presidents Pape Amghar Dieng and Mamadou Mbodj. They also signed a Memorandum of Understanding declaring their objectives to twin the respective sports associations, to strengthen the bonds of friendship, brotherhood between the respective countries, to promote sub-regional integration and cooperation and to establish a monitoring committee charged with the responsibility of overseeing implementation of the provisions of the protocol.
The next round of matches and meetings will take place in The Gambia in 2009 at dates to be agreed.
The Veterans have thanked Africell, ECOBANK, Mr Fisco Conateh, and all those individuals who have through cash and kind made their trip a huge success.
Read Other Articles In Article (Archive)