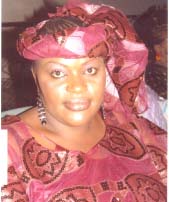 As the tourist season gets closer, more and more businesses are bracing up for 'serious' business.
One such enterprise is A and B, a restaurant which also involves in butchery. It is located on Kairaba Avenue near the post office.
Speaking recently in an interview with this reporter, the proprietor of the business, Madam Amina Mbassu Mbaye, said she has completed all preparations to operate her business in earnest.
Madam Mbaye said that despite all the challenges, she would live no stone unturned in contributing to national development, especially in maintaining a viable business that would be of benefit to her and all Gambians who will be working, as well as those dealing with her business.
Talking about the catering standard at the restaurant, Mrs Mbaye said she has delicious African, European and other dishes that meet the taste of people from various backgrounds. She also said the butchery unit of her restaurant sells meat of high quality to the public.
The industrious Gambian said that her restaurant has more than ten staff to run both the butchery and the restaurant to meet customer satisfaction.
The restaurant called A and B is expected to open on 22 November this year.
Giving a brief background about her business acumen, Mbaye said she gained experience in business by exporting smoked fish and clothes to America and Europe.
Madam Mbaye thanked President Yahya Jammeh for giving her the support to run her business, adding she would continue to work hard to improve her business.
Born in Banjul, Amina Mbassu Mbaye attended Wesley Primary School in Banjul. After schooling, Madam Mbaye stayed with her grandmother who was doing meat business in Banjul.
She said she was trained by her grandmother over the years till she became knowledgeable in the business.
"From there I started loving the business and became used to the system," she explained, saying she hopes to own and run "a bigger business and company". 
Read Other Articles In Article (Archive)