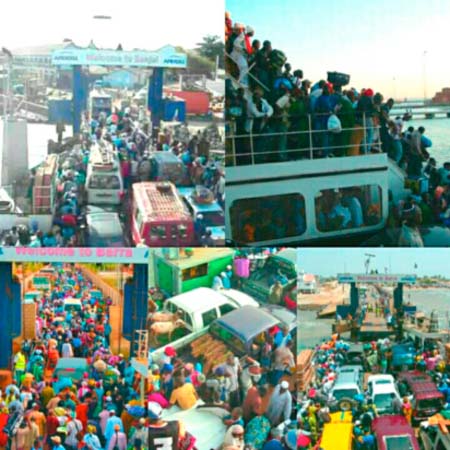 A lot of Gambians have voiced their concern over the state of the Banjul-Barra ferry crossing terminal.

The conditions have been exacerbated by the fact that only one of the two ferries has been operational since last Tuesday; the other one, Johe, is on maintenance.
Fatou Jobarteh, who recently travelled to the provinces through the ferry, lamented the poor and sluggish condition of the ferry, saying the new government should do something about ferry crossing point as soon as possible to ease the pain of Gambians plying the route.
"The entire Gambia is heavily reliant on the Banjul-Barra ferry crossing point for business endeavours, so I expect the new government to consider it in their top priorities," she said.
At the moment, Mrs Jobarteh said, one cannot ply the route except that you have to encounter numerous unbearable conditions in the ferries, like sluggish movement and transportation of goods and services together with overcrowding.
"Both of the ferries are slow, even when they are all functioning; so now that only one is functioning that makes things worst here. President Barrow and his new government should seriously find an alternative or conclusive solution before conditions may give rise to something."
One vendor, a native of Fatajo who alighted from the ferry returning from Badibu, complained that so much time is spent boarding the ferry, and even more is spent crossing from one end to the other, as a result of the sluggish movement of the ferry; together with the inconvenience of too many people in the ferry.
"A lot of people bought tickets, and it seems there are no limitations to the number of ticket they sell for each ferry. And when the ferry starts boarding, all those with tickets would obviously want to board, no matter how many people there are," she said.
The present inconvenience at the ferry crossing point is exacerbated by the ongoing maintenance of Johe, one of the two ferries plying the Banjul-Barra route. But the concerns and laments now are the same as before, even when the two ferries are operating.
Read Other Articles In Article (Archive)