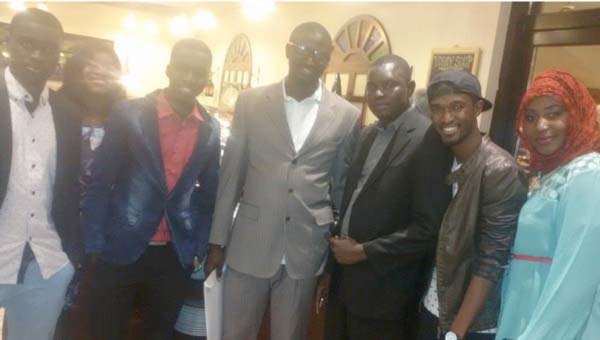 Gambians in various parts of United Arab Emirates have formed an association to promote their common interest and stand for one another.

The association is also established so to pull resources together to support one another in times of emergencies.

The Gambians formed the association as they converged to commemorate the 51st independence anniversary of The Gambia.The anniversary took the form of gala dinner during which discussions were held on how to take the association forward.

Speaking on the occasion, Ebrima Njie, said The Gambia government should consider re-opening an embassy in UAE.

He said this will help Gambians in UAE because most of the time when they are looking for job, it is required for them to have their papers attested and when they have it attested by the Gambian embassy in Qatar, that attestation is not recommended by the UAE government.

Mustapha Jallow, a representative of Gambian students in UAE, also echoed similar sentiment made by Ebrima Njie adding that sometime, when they need certain paper work from the Gambian embassy in Qatar, they usually face lots of difficulties.

"So we will be very pleased if The Gambian embassy or consulate can be opened here," he emphasised.

For Kebba Kuyateh, Gambians in UAE should unite and support each other saying "we are all here to make better life and this can only be made possible if we strengthen our association".

Omar Jagne called on all Gambians to stay focus and work towards achieving their mission in UAE.

"No matter how difficult it maybe at the beginning, we just have to believe in ourselves and know that it will be good at the end," he said, calling on all Gambians to support one another "in the best possible way".

Mr Jagne also advised his fellows to buy a home back home, in The Gambia, for they will all come back home one day.He also suggested that the association should rent a space where all Gambians coming to the UAE for the first time can be accommodated because renting a flat is expensive for initial arrivals.

Lena Sarjo also suggested that a contribution should be made by every member of the association at the end of every month so that if any member is in financial difficult, an amount can be given to such person on loan then the person will pay when he or she is settled.

Aja Ndey Thiam, a representative from the Senegalese association in UAE, hailed the efforts made by the Gambian association in uniting Gambians in the UAE.

She said the Senegalese association will be pleased to render any form of support any time they are called upon.

To complete the formation of the association, the following were elected as executives: Mustapha Jallow, Baboucarr Tunkara, Adama Cham, Kebab Cheno and Ebrima Njie.
Read Other Articles In Article (Archive)