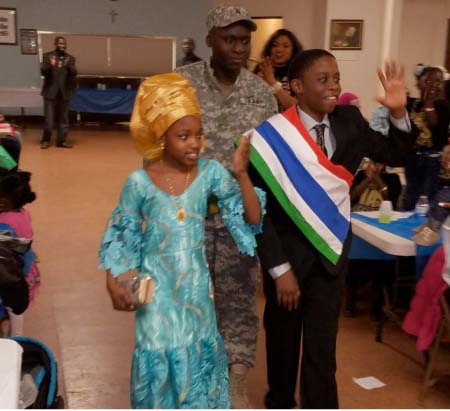 Gambians in Minnesota turned out in their large numbers last Saturday March 4th to mark the country's 52NDIndependenceAnniversarycelebrations.

Organized by the Leadership of the Gambian Association in Minnesota, the event was also attended by presidents and executive members of sister West African organizations in Minnesota, and among them were the presidents of Ghana Association, Edmund Ocansey, Nigerian Association, Grace Mobosi, Mali Association, Musa Diawarra, Senegalese Association, Haddy Haidara accompanied by their executive members and families, and representatives of the Minnesota Mandigo Liberian Association and friends of The Gambia.
Also in attendance were members and the president of West African Collaborative in Minnesota- WAC- Lawyer Kwao Amegashie, which is made up of the leadership of West African national organizations in Minnesota.
Its mission is to bring West African communities and organizations in Minnesota together to collaborate, build capacity, and address shared needs and visions.
The colourful and fun-packed event presented selected children from the community who posed as president, vice president, cabinet ministers and security services to exactly mimic how official independence anniversaries are celebrated in The Gambia.
In welcoming the guests, Master of Ceremony Lamin Gibba, who is also the Secretary General of the Gambia Association in Minnesota, encouraged all Gambians to be fully engaged in the political discussions of The Gambia and be prepared to put our leaders to account at all times. New Gambia cannot afford another type of dictatorship, he emphasized, and called for participatory democracy in the new political dispensation.
Speaking to the jubilating crowd immediately after inspecting the guard of honour mounted by children soldiers, Muhammed Fatty who posed as junior president of the Gambia re-echoed President Adama Barrow's independence message, that his government will embark on programmes that will lead to sustainable development, good governance and fix the issue of youth unemployment.
He said crimes against Gambians committed in the last twenty-two years will be investigated, and people found guilty of crimes will be dealt with according to the law. The Gambia has changed for good, he said.
Junior president Fatty noted that the people are fully conscious that they can put a government in office as well as remove it. No government will ever be able to entrench itself against the will of the Gambian people. This is the lesson we must draw from the change that has been brought by the people.
Lamin Sabally, the president of the GambianAssociation in Minnesota, called for unity among all Gambians irrespective of their political affiliations, and urged the community to continue to support the association in order for it to fullyrealize its goals of promoting unity and cohesion.
Sabally acknowledged the high-level presence of the presidents of the sister West African organizations in Minnesota, and described this as show of their solidarity with The Gambia, as demonstrated by the AU &ECOWAS leaders through their direct effective involvement in the peaceful resolution of the political impasse.
The guest speaker at the event, Papa Faal, an author and renowned civil rights activist, influentially appealed to Gambians to make their political leaders accountable at all times, to prevent them from possessing absolute political powers which, he said, is a recipe for corruption and dictatorship. Faal, who was part of the botched December 30 attack on State House in an attempt to forcibly dislodge former President Yahya Jammeh, implored the Gambian electorate to elect leaders with three fundamental leadership core values in mind: Integrity, Service before self and Accountability.
In a moving speech characterized by intermittent rapturous applause from his attentive audience, Faal, who is a US Navy veteran, said The Gambia's peaceful political resolution, which included regional bodies like AU and ECOWAS at the forefront of negotiations, with support from the UN and powerful western democracies, is an indication that Africans are capable of solving their own problems without having to rely exclusively on Western intervention.
He suggested that The Gambia model should be replicated in all parts of Africa, as an exemplary model to solve any political problem on the continent.
An assortment of Senegambian musical entertainment was supplied by Minnesota top DJ Bless Jagne.
Read Other Articles In Article (Archive)