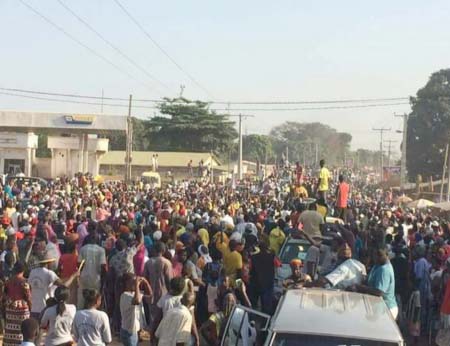 As the political impasse is finally laid to rest with the departure of the former president, Yahya Jammeh, Gambians from all walks of life have begun to express their expectation from the new government of President Adama Barrow.

Njundu Drammeh, national coordinator of Child Protection Alliance (CPA), said the new government's endeavours should include the promotion, protection and fulfillment of the human rights of all people.
It should establish institutions such as an anti-corruption commission and a truth and reconciliation commission, he said.
Mr Drammeh noted that the new government should also undo all bad laws put in place by the Jammeh government and ensure that all public bodies and officials are transparent and accountable.
In that regard, he said, the notorious National Intelligence Agency (NIA) should be revamped and be made "truly responsible and accountable".
He also suggested that there should be "a regular interface" between the government and the people on the state television and there should be a special ministry to be responsible for children's issues.
Mr Drammeh said Gambians should never again tolerate tyranny and human rights violations either by the state or individuals.
Mama Singhateh, charcoal seller at Serrekunda market, said Gambians should give chance to the new president and obey the laws of the land.
An America-based Gambian, Binta Ceesay, said The Gambia is at a rough edge, having "been wounded for so long".
"I would expect the new government to lead an effective healing process," she said.
That aside, Ms Singhateh said she expects the government to do more developments in the areas of education and other areas geared towards economic development such as boosting the private sector businesses by giving them the opportunity to open up and compete healthily.
"I also expect a media friendly government which opens up the space for media pluralism especially television," the American-based Gambian said.
"Besides, Gambians have to exercise some patience and be ready for reconciliation and more importantly be ready to put all differences aside and come together to work in the process of rebuilding the nation."
The young lady pointed out that whosoever has an expertise in any area should be ready to play a role to push the nation forward.
She said the new government should be given chance to work for a better, more democratic, free and peaceful Gambia.
Sainabou Ceesay, a second year student at the University of The Gambia, said: "I expect the government to provide employment based on qualification, not on the basics of whom you know;
the right people should be put at the right place.
"All forms of favoritism and tribalism should be eradicated. The new government should fulfill every promise that they made to the people and respect the constitution."
Read Other Articles In Article (Archive)