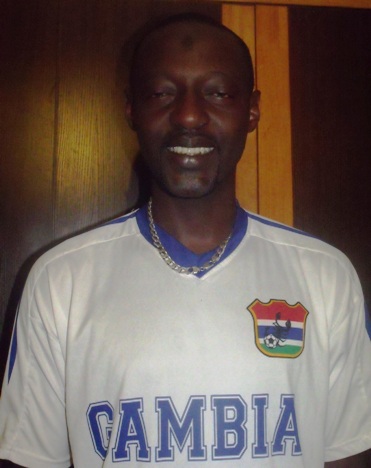 Pa Modou Mbowe, a level two certificate holder in youth football coaching in Birmingham, has set his eyes on winning the World Cup for The Gambia if he is given the opportunity to take charge of any categories of the Gambia national teams.
The 42-year-old former PE teacher at Nusrat High School, who moved to the United Kingdom in 1994, arrived in Banjul a fortnight ago looking hungrier to take Gambian football to the sky.
In a lengthy interview with this reporter at his Bakoteh residence Monday night, the ambitious youthful coach who has made no secret of his desire to take up the challenge as the national team coach if given the opportunity, has called on the Gambia Football Association to consider giving him a chance to prove his worth.
"Well, what motivates me to choose a career as a coach at the expense of other areas like teaching is the desire to take my country to the highest level of football competition (the WC) and I am hopeful of achieving the desired result because I have accumulated a wealth of experience to realise my dream," he said.
Mbowe, who started his coaching career in 1997, said that leading the Gambia to both continental and global glories has always been his primary objective and he is confident that if he is given the opportunity, he can deliver the good for any categories of the Gambia's national teams.
"My major dream is to guide the Scorpions to the World Cup and to hear my country's national anthem sung at the world's most prestigious showdown (the FIFA WC)," explained Mbowe, who says he is becoming increasingly frustrated by Gambia's lack of silverware.
He added: "I have got the qualification to raise The Gambia's flag to higher heights and I am confident that I can play a positive role as a coach with any categories of The Gambia's national team if am given the chance to prove my worth."
One of Mbowe's most outstanding achievements since he opted to become a youth coach in 1997 was in 2006 when he guided the Gambian selection team in the UK to a semi-professional league title, as the seemingly inexperienced Gambian outfit grabbed all the important accolades including the league's top scorer award.
"Believe me, if am given an opportunity to be the head coach of any national teams to any international tournament, I will come back home with my head held high and I am hungrier to succeed now than ever before," said Mbowe, who also had a spell as a basketball player during his days in The Gambia.
He also expressed his disappointment in seeing his application turned down when he opted to take up the national U-17 team's vacant coaching role in 2004.
He said that happened when Gabbi Sosseh was at the helm of affairs at the FA.
"I was totally disappointed after seeing my application rejected by former GFA president Gabbi Sosseh, who failed to fulfill his promise of appointing me as the then U-17 team head coach even though I was going to do the job free of charge," Mbowe said.
Mbowe however gave some piece of advice to the country's football authorities by calling on them to look for a reliable and good marketing strategy in a bid to put an end to what he calls last minute fundraising campaign.
Read Other Articles In Article (Archive)