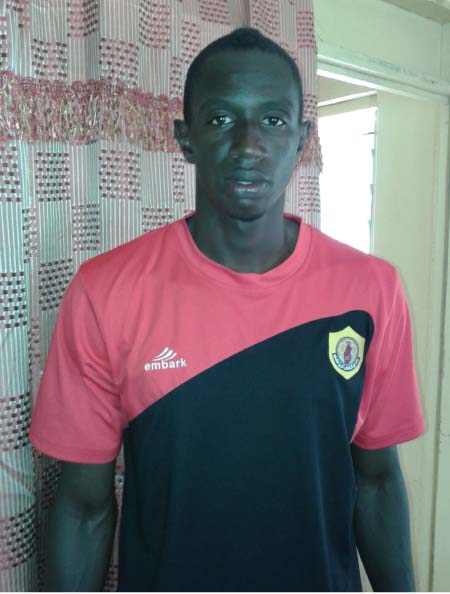 Gambian Volleyball star Amadou Jarju alias 'Amo' has signed a five-year contract with Qatar Sport Volleyball Club from Gambia Armed Forces Volleyball Club.
In an interview with Pointsports yesterday  the 17-year-old former Jeshwang attacker said the amount attached to the contract with the Gulf country's first division side was 'fine' but preferred to keep his cards close to his chest.
He stated that he would begin work with his new club in September 2014 through the next 5 years.
He took time to thank the Gambia Volleyball Association (GVBA), his team-mates and colleague Tijan Janko, currently playing in Qatar, who arranged the contract for him.
"The contract is 5 years and I have the contract certificate and all other documents," he added, saying: "The amount attached to the contract is fine but I do not want to mention it".
He also said the GVBA contributed a lot to him securing the contract as it was the GVBA that scouted via the Dakar University Club, which resulted in the other teams seeing and showing interest in him.
"People can expect more from me now that I have signed a professional contract," he said, adding that he is training hard as he wants to reach another level in his career.
He said securing a professional contract sometimes has to do with luck but added that hard work, determination and dedication are also very key.
 Amo, as he widely called, took time to encourage his colleagues to keep working hard.
"Volleyball has to do with luck sometimes to play at professional level," he stated. "I am not the best player in The Gambia; I am just the lucky one."
There are more chances to come for other players, he pointed out, calling on them to just concentrate on working hard.
He also called on the Ministry of Youth and Sports "to know that football is not the only sport in The Gambia", saying: "What football players can do, volleyball players can do more."
Musa Casa Taal, Gambia Volleyball Association President, described Amo's achievement as a big development for volleyball and The Gambia as a whole, particularly himself.
Casa said he would do all he could to get The Gambia to penetrate the international scene, adding that Amo's securing of the contract was part of his advocacy, during his time of achievement and accolades, for The Gambia to get professional players, referees, coaches, as well as be in the administration of international institutions.
"I played a vital role in him securing the contract because since the beginning we were doing the work together," he went on, recalling 'the hard road they travelled to get to Dakar University Club, where he first went.
At DUC Amo proved, polished and developed himself, the GVBA president noted, saying there is a lot in the pipeline he has to give to young players for them to develop in volleyball.
"My aim is to expose and develop talents we have in The Gambia to be able to penetrate the international arena like any other nation," he said.
"If I am given the chance and opportunity, the sky is the limit for all players, administrators, coaches, technicians and all in volleyball."
Taal stated further that he is dedicated and ready to ensure Amo excel in his volleyball endeavours, adding that he is also prepared to use his role and volleyball leadership skills to good account for the development of young talents and his country. 
Read Other Articles In Article (Archive)