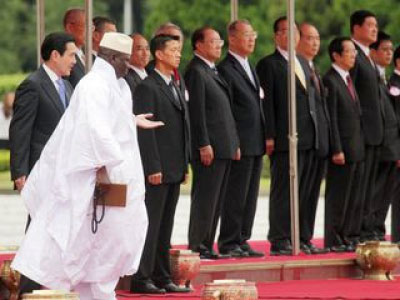 Gambian President Yahya Jammeh has arrived in Taiwan on a state visit, the Ministry of Foreign Affairs said Tuesday.
"This is Jammeh's first visit to Taiwan since his re-election," said Steve Hsia, deputy director-general of the ministry's Department of Information and Cultural Affairs, in pointing to the visit's significance.
According to reports monitored by this paper from CNA, Jammeh was welcomed with full military salute later Tuesday.
Leading a delegation of 76 officials and ministers, Jammeh will meet with Ma "to exchange views on international affairs and other issues of mutual concern," according to a statement released by the ministry.
Besides calling on local officials, Jammeh will also host a seminar on trade and investment opportunities in The Gambia on June 27 in Taipei, it said.
The trip, the ninth Jammeh has made to Taiwan, demonstrates "the close partnership and brotherly bonds between the two countries," the statement added.
Jammeh's state visit is expected to "facilitate the exchange of opinions in terms of international affairs and bilateral development," Ma said in a speech after the 21-gun salute.
Describing Taiwan-Gambia ties as "close and fruitful," Jammeh said Taiwan is an important "strategic partner" in foreign policy and he is looking forward to more exchanges with the "economic and technological giant."
During his five-day visit, Jammeh will call on several Taiwan officials scheduled to host a seminar in Taipei on trade and investment opportunities in The Gambia.
It is Jammeh's ninth visit to Taiwan in his 17 years as president of the African country. He calls Taiwan his "second hometown."
Read Other Articles In Article (Archive)