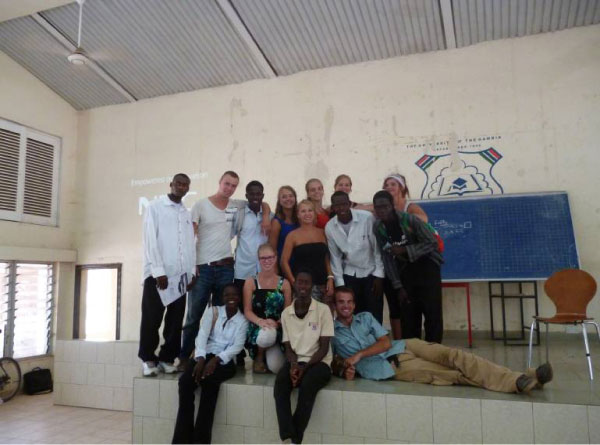 Brikama College Family Association also known as BCFA on Thursday 29th May 2013 held a seminar on eradication of corporal punishment in schools.
The seminar brought together representatives of the Ministry of Education, parents, family members and students of the college.
According to its members, the association came into existence sixteen months ago, focusing on the welfare of children, through eradication of corporal punishment.
The association, which works in collaboration with Dutch students of their partners from their sister school - Windeshiem University of Applied Science in the Netherlands, recently staged a forum seeking for the total eradication of corporal punishment in schools.
Speaking to The Point, the President of the association, Samsideen Jeng, said they are contributing to the development of the college and students.
He revealed that as an association, they are always interested and willing to see the development of children, noting that the children are the future leaders of the nation.
He expressed appreciation to the Dutch students for their efforts towards the development of the children.
The former President of the association, Mamadi Jaiteh stated that the aim of the association includes breaking barriers between the Gambia College and their sister Windeshiem University of Applied Science in the Netherlands.
The Head of the Dutch students' association - Annabel Hultink highlighted the significance of eradicating corporal punishment in schools.
She urged them not to present canes in classrooms, as it drives the attention of children in class.
According to her, it is also significant for teachers to know the needs of the children and reward them. This, he added, could be a sign of encouragement to them.
"The teachers should be a source of motivation and encouragement to the children in classrooms, through both rewards and award prizes for good academic performance," she added.
Annabel further revealed that some children are used to unnecessary beatings at home, which she added, affect them psychologically. She then pointed out that, if they encounter the same at school, this would however, contribute to the child's lost of concentration in classrooms."
She urged teachers to avoid using canes in the classrooms and correct the child through dialogue and other alternative methods.
"Teachers have a key role in developing the child's behavioral attitude," Annabel stated.
Read Other Articles In Article (Archive)