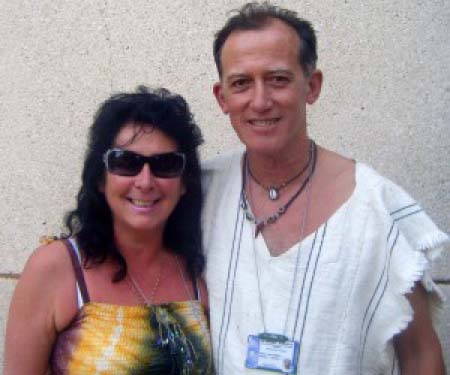 Karmic Angels UK, a registered charity based in Liverpool, the United Kingdom, and also registered as an international charity operating in The Gambia, has said its aim and objective to establish and support projects, providing relief and development aid for the people of The Gambia.
A Gambian nurse who was in contact with one of the founders of the charity, decades ago, motivated such support for Gambians.
The Point interviewed Stephanie and Alan, founding director and chairman of Karmic Angels, who revealed plans to "create a bigger difference with schooling, clinics, water and much more" in The Gambia.
"This is one of the poorest countries in the world… largely due to a lack of basic resources such as safe drinking water, medical clinics, agricultural and educational facilities. It has been our vision for many years to try and make a difference there."
Introducing themselves to this correspondent, Stephanie and Alan also gave a brief history of their love affair with West Africa, and the circumstances of Stephanie's birth involving a Gambian nurse, which took place in 1959.
"We would like to introduce ourselves to you, and tell you our story about what made us decide to do something for a country and people often ignored.
"We are Alan and Stephanie, husband and wife, who has always had a dream…Stephanie has always had a love of West Africa, and there is a very big reason why.
"When she was born in 1959, her mother gave birth to her when she was only 5 months pregnant and, being born only the size of a hand, nobody gave her a chance of surviving.
"A priest was called to give her 'the last rites', but there was no priest around. A black nurse was in the ward, and she was the one who saved Stephanie, because in those days you did not have the chance of survival due to the lack of the modern day equipment.
"She was, of course, from The Gambia and had recently travelled by sea from The Gambia to Liverpool to work as a nurse.
"She was the one who kept Stephanie alive and in those days it was in the newspapers as 'The miracle baby'. Stephanie survived after 9 months of trauma, and the Gambian nurse gave her name from Corinthians out of the Bible. This was "Stephanius" made into Stephanie, as she was a girl.
"Since that time, she has owed her life to her (the nurse) and felt that the best way to give back what she gained was to give back to The Gambia.
"When Stephanie was 13 years old, instead of reading things like 'The Bunty' or other 'girly' magazines back then in the 1970s, she read about 'Mandinka' and 'Drum', which was all about slavery in The Gambia.
"After reading books such as these, Stephanie just wanted to abolish slavery, not realizing at that young age that slavery had already been abolished.
"One evening we started watching 'Roots' the TV series about "Kunta Kinte", a young 15 year old Mandinka African taken from his home village in Juffereh, The Gambia, as a slave to America, along with 170 other Gambians.
"When we had watched the whole series, Alan thought about what it would be like to go back to The Gambia! He had already been there in 1985, but this was now 22 years later!
"To say that Stephanie was surprised would be an understatement! Excitement was not a word to do justice to how she felt about doing something she had wanted to do all her life.
"So, for Stephanie's birthday, we went to The Gambia in March 2007. Obviously, we didn't realize at that point it was going to change our lives forever!
"On this first visit together, we did a lot of touring to see what life was all about in The Gambia and, WOW, what an eye opener…
"In November 2007, we visited again and we were determined to do something for this clinic in Kubuneh. We walked away in the searing heat (40c), having assured them that we would.
"Many people start out with good intentions but, for whatever reasons don't or are unable to follow them up; but we are determined!
"We promised that when we returned, we would ensure they had running water. So, upon our return to England, we started to raise funds in whatever way possible. This was just the start.
"And now, since April 2008, Caring Hands has running water and power to run its own down solar power system – a day of joy for all and lots of tears."
The couple also told The Point that the 'role of Karmic Angels includes building schools and community projects, relieving sickness and poverty by providing safe running water, equipment and financial assistance to people in villages, clinics and schools and facilitating autonomy and self-determination.'
Consequently, their work has led to 'ongoing contact and discussions with the Gambian government, and they have applauded and endorsed the work of Karmic Angels…We aim to fully support the Gambian government's blueprint for achieving the highest standards possible for health, education and agriculture by the year 2020.'
Regarding obstacles to their operations in The Gambia, the couple said, "the only obstacles we have are for the tour for the 50th Independence Celebrations in February 2015 inteers and members."
Concerning their technique of raising funds, they responded: "With our T.E.A.M ( together everyone achieves more), we work most weekends doing charity shows all-year-round, selling raffle tickets for cars, food hampers, donated gifts, holidays. We also apply for grant funding to help mainly with schools built for the nursery children."
Finally, the couple announced, information about their tour in February could be found on the website:http://www.karmicangels.org.uk/uncategorized/karmic-angels-team-uk-3-lions-tour-gambia-2015/.
"This is most important to us getting sponsorship…This has been quite slow." However, they added, "we are truly honoured and blessed with the unconditional support and help from volunortant to us at this time…Promotion of the tour is what is needed...Please post as much info as you can from the info obtained from the UK link."
Read Other Articles In Article (Archive)