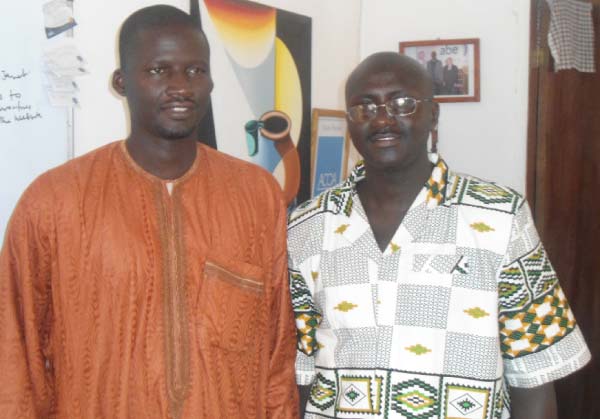 The two main local languages of The Gambia, Mandinka and Fula, will soon be found on the information technology search engine Google, as the Jollof Tutors Training Institute has partnered with Google to translate 10,000 phrases, words and sentences into Mandika and Fula languages.
Google, a multinational, publicly-traded organization built around the company's hugely popular search engine, has enterprises including internet analytics, cloud computing, advertising technologies, and Web app, browser and operating system development partnership with Jollof Tutors that date back to the recently concluded Google forum held in The Gambia.
According to Alagie Mamading Kurang, the chief executive officer and managing director of Jollof Tutors, the exercise are part of Google's Community Programme for African Languages, headquartered in Nairobi, Kenya.
This programme, he explains, is aimed at installing in the internet as many as possible African languages to make internet accessible to everybody, without being barred by one's inability to understand major international languages.
He added: "We start negotiating with Google some three months ago, during the Google forum held in Banjul; we agreed that we can translate two local Gambia languages - Mandinka and Fula - into English on the internet. Initially we suggested translating four languages; that is, Mandinka, Fula, Jola and Sarahuleh, but Google said we start with two languages, which is Mandinka and Fula."
CEO Kurang said the Wolof language is not part of the project as it has already been done in Senegal.
Google has given them 10,000 words, phrases and sentences in English to be translated into Mandika and Fula, he said, adding: "Students are excited about it and we got volunteers from UTG and Jollof Tutors."
The Ministry of Education, he added, also provided them with language experts from the non-formal education unit, with over 50 student volunteers, working on the translation.
After the translation, the words will be compiled and sent to Google and Google will do further editing of the translation in their technical way.  "After all the editing is done, they will be referring to us," he said. "Language translation cannot be perfect; there are questions that may come along the way."
After all the process, Google will upload the translation on the internet. "The importance is that those outside The Gambia that are interested in our local languages can access it through the internet, which I believe is laudable," he said.
"Google has been interested in Africa. Few months ago Google came to The Gambia to initiate this idea. This is one of their major projects; we hope that more Google projects will be coming and we feel happy and proud for Google to choose Jollof Tutors.  There are many more programmes for young people. Young people will benefit a lot from the coming Google programmes for The Gambia."
Yankuba Mamburay, project coordinator of Google for Jollof Tutors Language Translation Project, also spoke to our reporter in an interview saying: "Speakers of the Chinese and Indian languages, as well as some African languages like Swahili, have benefited immensely by using Google. So in The Gambia this project will provide avenue for our languages to be learnt and heard internationally."
He said he was informed that the Ministry of Education would soon start to use local languages in schools.
"This will put The Gambia more on the world map, in terms of information technology so that people could see and learn a lot about The Gambia."
"We are proud to be associated with this project," he said. "Google is coming more into Africa because Africa has a future, Google is aggressively pursuing African languages. Google will do their technical review after the compilation is completed, after which they will send back to us."
Google, he added, would certify all the volunteers and students that would embark on the translation of the languages.
Meanwhile, Jollof Tutors and Google partners in The Gambia held a three-day Google language translation workshop (8 – 10 August) for volunteers translating the 10,000 words and phrases, at his office on Kairaba Avenue.
In his address to volunteers at the closing ceremony, Essa Jallow, a representative of the Ministry of Basic and Secondary Education, said there are plans to introduce the study of local languages in the school system.
It is the desire of the ministry to bring education to the doorsteps of all and sundry, he said, while hailing the efforts of Jollof Tutors in providing tertiary education.
In his remarks, Poncelet Ileleji, president of the Information Technology Association of The Gambia (ITAG), recalled that the offshoot of the May business and technology forum gave birth to the Jollof-Google partnership.
Jollof has put in place volunteers to undertake the translation exercise, Mr Ileleji said.
Read Other Articles In Article (Archive)