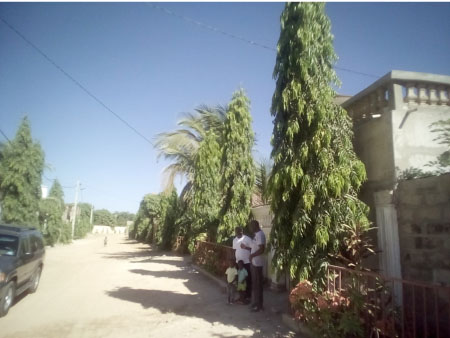 Ousman Gajigo, a resident of Brusubi phase one has conducted 'giving back to the community service' by installing a solar power supply system and tree- planting decoration of flowers along the streets of Brusubi.

Mr Gajigo said the exercise is geared towards supporting his neighbourhood to provide a friendly environment.
He said he started the project by planting flowers at his home front compound gate and later deemed it fitting to extend it to the neighbourhood.
Mr. Gajigo said one of the objectives of the initiative is to keep the streets green and provide lightening along the streets with solar systems, which he said, is cost effective.
"I did this to support my neighbourhood to keep the environment safe and secure and to avoid people from leaving in darkness," he said.
According to Mr. Gajigo, providing voluntary social services is his passion, saying it is important to give back to the community.
He said he is always into tourism and gardening at his farm, which led him to replicate similar initiatives in his community.
"My entire farm is installed with solar power supply which is more economical and environmentally friendly. My own farm is about climate resilient agriculture."
He said the project is highly important, saying trees are agents of environmental protection and the installation of solar power systems too.
He said Brikama Area Council; the local government authority in the area who is responsible for the environment cannot do it all, saying everyone must contribute their quarters towards development.
Mr. Gajigo is from Badibou and spends most of his time in the United States from where he worked in international agencies, including UN and World Bank.
Currently working with the African Development Bank, Mr Gajigo came to The Gambia to contribute to humanity when he took a break from work. He has farms in Basori and in URR.
Ebrima Kejira, one of Mr Gagigo's neighbours commended him for his efforts in complimenting the Area Council efforts in national development.
He said the entire neighbourhood has appreciated his effort, particularly the installation of solar panels and the decoration of the streets with flowers.
He praised Mr. Gajigo for what he called his 'brilliant' ideas, saying Gambians should emulate him to create a better environment. "We acknowledge his effort and encourage him to do more for the people of this country, the Almighty Allah will reward him."
Read Other Articles In Article (Archive)