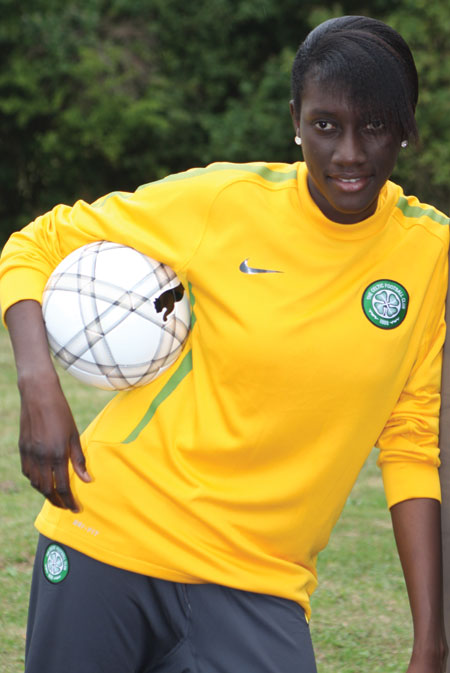 Former Red Scorpions prolific striker Fatou Kinneh Jeng is set to sign a professional contract with Celtic, a top Scottish Female Premier League team in the United Kingdom following a successful trial, Pointsport gathered yesterday. 
The lanky forward who is undeniably one of the brightest talents in the country's female football left the shores of the country to study Business Management at Glasgow Caledonian University in the United Kingdom last February.
But reports indicated that Jeng who won the 2009 most outstanding female footballer of the year award voted by the Sports Journalists Association of The Gambia last April has opted to continue her career as a footballer.
Crouch as she is widely known has since her arrival in the United Kingdom took football seriously, and as a result attracts interest from the Celtic outfit who repeatedly expressed their desired to tie the former female National Scorpions forward to a lucrative contract becoming a threat to the Premiership defenders, thanks to her extraordinary quality, scoring 3 goals during the trail in the process.
Currently, big league pride is a sure possibility, as Jeng continues to impress beyond her local vicinity, a sign of stepping stone to international boundaries.
Fatou Kineh Jeng, got into football through no ones' direction. She actually kicks start with Gambia's Gift Academy and soon grew into becoming one of Gambia's most gifted female forwards.
"There was just nothing near football influence around me, it just got into me and that's it." 
Fatou's talent was so obvious that most of The Gambia's female teams wanted to secure her service, but she remained committed to the Red Scorpions until her departure.
At a very young age, Jeng became one of the star players who developed the core strengths of the first Gambia Female National Team.
Upon her arrival in the United Kingdom, Crouch was taken to the school's female team where she proved herself beyond all reasonable doubt.
The team's Coordinator later realised her talent, and as a result decided to give her enough playing opportunities to prove her worth. According to Crouch herself, she caught the attraction of Celtic when she was playing for the University School team.
"University became very much interested in me but the articles published on me on the newspapers back in The Gambia has served as an added advantage, because it convinced my guys to build enough confidence in me which eventually paved the way for me to progress to the Celtic female team," Crouch told Gambian reporters in a telephone interview.
"During my first game with the University's female team the management were very much impressed with my performance and I am very much grateful to the entire management, but most especially to Lorna Campbell and Robert Graham," she stated.
Fatou joined Celtic Ladies Under-17 team for a trail in February 2010, scoring three goals in the process, including a brace in Celtic's impressive 4-1 win. She also scored a superb goal for Celtic reserve team in their 5-3 defeat to their opponent where she produced a stunning performance to the delight of the club management.
Crouch was a regular scorer during her time with Red Scorpions in the country's top flight women's league. She is likely to start her Celtic career with the Under-17 team, if she reaches an agreement about the signing of the proposed contract. She could break into the senior team soon in a bid to show her talent in bigger games soon.
"I can't wait to wear the Celtic Jersey to get started," Jeng concluded.
Read Other Articles In Article (Archive)