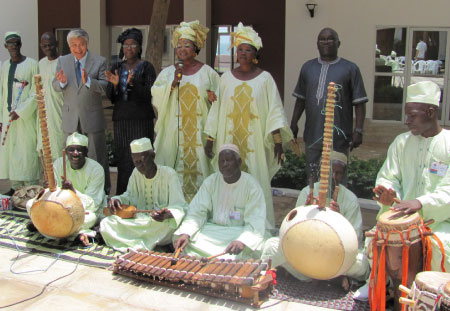 The Gambian cultural group yesterday made an impressive rehearsal ahead of their participation in an international festival in Taiwan later this month.
The team has been invited by the Government of the Republic of China on Taiwan to participate in an international indigenous cultural festival.
During their yesterday's rehearsal, the team did impress their audience at the Taiwanese embassy grounds in Bakau, through their electrifying performances.
"Since we received the invitation for this festival from the brotherly Government of Taiwan, my ministry has spared no effort to prepare a formidable cultural group which will showcase the essence of Gambian cultural and traditional performances to the audiences in Taiwan," says Fatou Mass Jobe, minister of Tourism and Culture.
The Tourism and Culture minister made these remarks while addressing the Gambian troupe at the rehearsal.
According to her, the Taiwanese embassy had given them all the necessary support by facilitating the transportation of the ten-member group and generously contributing to the splendid wardrobe of the performers.
The rehearsal, she said, will continue so that all their songs will be perfected before they depart for Taipei on 24 July 2011.
"The Gambia is proud to participate in this event," she said. "We are a nation rich in cultural and traditional performances and dances, some of which our troupe will showcase during the festival."
She said the participation of the group will further cement the relations between the two countries.
Speaking earlier, Richard Shih, Taiwanese ambassador to The Gambia, said he was happy to see the country participate in this important event.
According to the chief Taiwanese diplomat, the Gambian troupe has been rehearsing for three months, which has actually impressed him and attracted his admiration for the team.
The team's participation will no doubt further strengthen the already existing ties between Banjul and Taipei, he says.
Read Other Articles In Article (Archive)