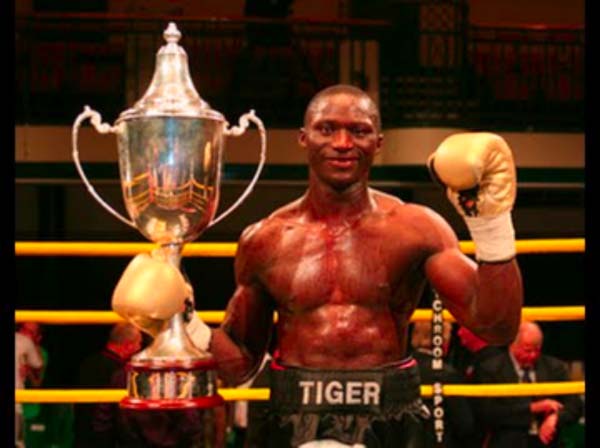 Gambian UK-based professional boxer Patrick Mendy has set his sight on competing at the highest possible stage in a few years to come and at the same time would like to help the youth develop and lift the country's flag high.
Patrick, who is nicknamed Tiger, was speaking to Pointsports yesterday when he made these remarks.
Currently working on projects to help Gambian boxers prepare for the All-Africa Games and Olympic qualifiers, Tiger said he is in the country to ensure boxing is strong and beneficial to Gambian youth.
His aim is to see that the sport is decentralized across the country, he went on, saying he wants to see all sports, especially boxing, grow stronger in the country by 2020.
Boxing is coming up in the country and that is what they want to see, he noted, saying boxers are raising the country's flag high in the international arena, giving the example of Omar Jatta, who recently won the Global Boxing Council and Combat Group's World middleweight fight in Hamburg, Germany.
The Gambia is blessed with potentials and talents but unless there is a strong association the boxers would not be able to achieve or get to where they want in their careers, he remarked.
They do not want to see some people helping to develop the sport while others are trying to hold it back, he said, adding that they would put in place stiff measures to deal with such individuals.
As long as you are a Gambian the sport is yours, he said, while expressing his readiness to support young boxers in any way he could.
He plans to work with service men and women and train a boxer in each camp who will later go on to train others, he further said, adding that they also aim to stage a competition for them.
"A fighter never puts down his gloves but before I retire I hope to see Gambian boxers reaching the highest possible level," he concluded.
Brief profile of Patrick Mendy
Patrick Mendy, born September 26, 1990, is a Gambian professional boxer who was born in Gambia and currently lives in Maidenhead.
He made his debut as a professional boxer on 6 March 2009 against Travis Dickinson and lost on points.
He then lost his next fight as well against Tobias Webb on points, with each of his first two opponents their debuts.
He was picked as a contender for the 13th series of Prizefighter where he went on to win the competition. He was also the youngest fighter ever to take part in the competition at the age of 19.
On June 30, 2010, Mendy competed in the 13th series of Prizefighter and came out the eventual winner of the competition. He came in to the competition following a loss from undefeated Kenny Anderson.
In his first fight he beat Sam Horton by TKO in the 1st round and broke the record for the fastest ever knockout in Prizefighter at 82 seconds (1:22min).
In the semi-final he beat Daniel Cadman by unanimous decision with all the scorecards reading 29-28 in favour of Mendy. In the final he fought in-form Paul David and won on unanimous decision again and received £32,000 for his win, and the judges scorecards were all in favour of Mendy, 29-28, 29-28, 30-27.
In this series he broke an outstanding 3 Prizefighter records:
Youngest ever Prizefighter contestant (19 years and 276 days)
Youngest ever Prizefighter winner (19 years and 276 days)
•Fastest ever knockout (Vs Sam Horton in 82 seconds (1:22)
In 22 November 2014, Mendy fought against Polish boxer Robert Swierzbinski in Bialystok, Poland.
Mendy won by unanimous decision and received a first professional belt in his career - WBF in middleweight division.
Read Other Articles In Article (Archive)