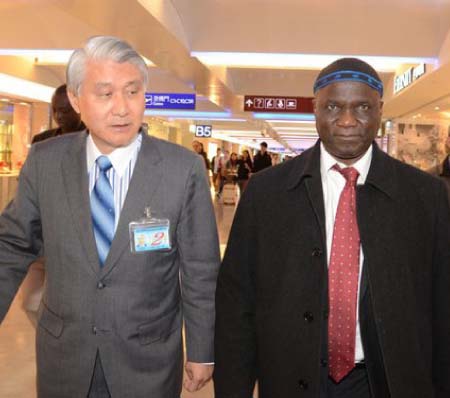 The Gambia's Ambassador to the Republic of China (Taiwan), Alhaji Ebrima N.H. Jarjou, departed from Taipei Friday, a week after the Government of the Gambia announced a decision to sever diplomatic ties with Taiwan.
Taiwan terminated diplomatic relations with The Gambia on Nov. 18 after a statement issued by the Gambian presidency surprised Taipei with his announcement to end 18 years of formal ties.
Jarjou was sent off by Richard R.C. Shih, a former ROC ambassador to The Gambia and currently the director general of the foreign ministry's department of protocol, at the Taiwan Taoyuan International Airport.
Repeatedly expressing his gratitude to Taiwan, Jarjou told reporters what he can say was only "thanks."
Jarjou said that although Gambian President Yahya Jammeh made the decision, he still believes the friendship between the ROC and The Gambia remains and the people of the two countries will treat each other as friends.
Taiwan's ambassador to the West African country, Samuel Chen, returned to Taiwan on Wednesday.
The loss of diplomatic relations with The Gambia means Taiwan now only has 22 diplomatic allies.
In a related development, Taiwan's former ambassador to The Gambia Samuel Chen and two other foreign affairs official returned to Taiwan on Wednesday, and reported to foreign minister David Lin on the West African country's abrupt termination of diplomatic relations with Taiwan.
In his report to the foreign minister, Chen said that bilateral exchanges between high-level officials from the two countries had been normal before Gambia government's unexpected unilateral announcement of the break Nov. 15, according to Ministry of Foreign Affairs spokeswoman Anna Kao.
For example, Gambian vice president Isatou Njie-Saidy attended Taiwan's national day celebrations in Taipei in October, while Jammeh visited Taiwan last year and president Ma Ying-jeou also visited The Gambia that same year.
Taiwanese Minister of Education Chiang Wei-ling said last week that Gambian students on Taiwan government scholarships can stay until the end of the current semester, despite the severance of diplomatic relations between the two countries.
A total of 276 Gambian students are studying in Taiwan, according to the Ministry of Education statistics. Among them, 175 are on scholarships provided by the Taiwan's Ministry of Foreign Affairs or National Science Council.
Based on humanitarianism, Chiang said, Gambian students on government scholarships can continue their study until the end of this semester in January 2014.
Source: Focustaiwan
Read Other Articles In Article (Archive)