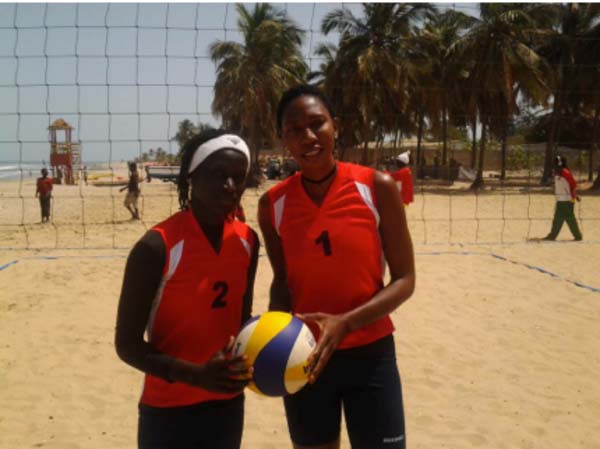 Issued Tuesday 28 March 2017
The Gambia women and Sierra Leone men beach volleyball teams have once again retained their dominance in the zone.
Both countries registered outstanding victories in the just concluded Zone 2 qualifiers held in Banjul.
Gambian pair Saffie Sawaneh and Abie Kujabie won by 2-0 (21-14, 21-15) over Zainab Kamara and Francess Lassana of Sierra Leone.
The first game for team Gambia saw them running riot against Guinean Pairs 21-6, 21-7 and team Salone also beat the Bissau Guineans 2-0 (21-8, 21-11) in the second match.
The Gambia then rounded off a memorable day as they were victorious in all 2 matches that they played, following their victory.
This matchup had even more excitement in store for the host as they have climbed top of the ranking.
In the men game, Sierra Leone dominated with their brilliance. Team Salone won the derby on edge against the towering Gambia pair of Alieu Barry and Ebrima Jatta.
The Gambia also showcased their brilliant serving and passing game in the match.
Throughout the game, both nations were able to control the matchup with their adept passing play. The players utilised their passes to set up point-winning spikes and this aspect of the game has been improving steadily, especially in the finishing department.
After a tough match Sierra Leone won by 2-1 (21-16, 21-19) and retained their position as number one in zone 2.
Despite the unfavorable result for Guinea Bissau, all three nations booked qualifications to this year's Africa Cup of Nation finals.
Final Ranking
Men: Sierra Leone, Gambia and Guinea Bissau.
Women: Gambia, Sierra Leone and Guinea Bissau.
Read Other Articles In Article (Archive)