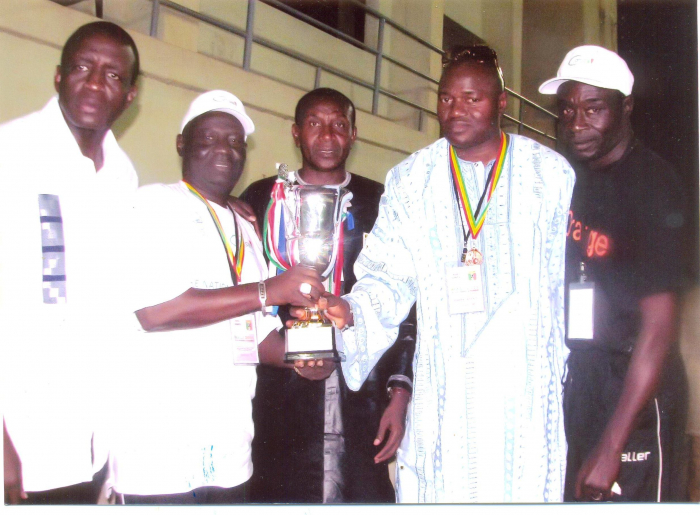 The Gambia veteran team emerged winners of 'The most disciplined team' trophy at the recently concluded 3rd Edition of the Zone II Veteran Union tournament held in Bamako, Mali.
According to Mafugie Jatta, executive secretary of the Zone II Veteran Union, who was part the Gambian delegation to the tournament, The Gambia was crowned with such an award and trophy, which was one of the prestigious awards of the tournament, for their "excellent participation and general discipline".
The 16-man delegation that returned home last Wednesday after taking part in the six-team competition computed between five nations, travelled by land to and from Mali.
Jatta said they went through some difficulties during their preparation for the tournament due to financial constraints and other logistical shortfalls, noting that they planned to travel with a delegation of 32 but had to cut it to 21, which was also reduced at the time of departure.
He noted that the presence and participation of The Gambia in the tournament was highly appreciated because the Zone II Veteran Union has its secretariat in The Gambia. 
They were well treated in terms of accommodation, internal transportation and feeding, he said.
Mr Jatta also stated that during the tournament they had meetings as members to discuss the draft constitution of the union, adding that from the deliberations in those meetings they did realize they should expand from Zone II to ECOWAS Zone.
They have been tasked in The Gambia to finalise the draft constitution by late next year to be able to elect a new executive, he said, adding that the onus is on them to get the task done chiefly because their country The Gambia is the home of the union's Secretariat.
The tournament was computed between Mali A, Mali B, The Gambia, Senegal, Sierra Leone and Guinea Conakry and the winner of each group emerged as finalist and then played against each other in the final, while the runners-up of each group had to meet to decide the third place winner.
Mali A emerged as winners after beating Sierra Leone by 1-0 in the extra time of the final encounter.
Mali A received a trophy with medals as winners, while Sierra Leone received a consolation trophy.
In the third place, Guinea Conakry beat Senegal 1-0 but the Union decided to give Senegal the third place award because there was the belief that Guinea Conakry filled in underage players, who also failed to produce their passports for verification, Jatta, the executive secretary of Zone II Veteran Union, told Pointsport.
Senegal were then awarded with a bronze medal as third place occupiers.
The next edition of the tournament will be held in Senegal at a date to be confirmed by the Senegalese National Veteran Association, Jatta said.  
Read Other Articles In Article (Archive)