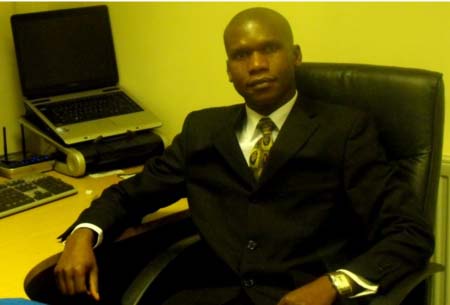 The founder and initiator of The Gambia Volunteer, Roy Sanyang, yesterday briefed journalists about himself and the founding of Gambia Volunteers.
"Many thought the name Roy is a foreign name, because of the culture and traditions we are in; that is why such names are not common in these areas," he explained.
To some people the project was initiated by a Peace Corps volunteer that lived in the village and was trying to help the people. 
However, to clear the air, Mr Roy Sanyang spoke when he was asked how Gambia Volunteers came about and why the name Gambia Volunteer not UK Volunteers or USA Volunteers.
He said the Gambia Volunteers was setup since 2009 with a view to encouraging people to volunteer in community projects.
Tourists coming to The Gambia for holidays can volunteer part of their holiday time in The Gambia at community project and schools; instead of relaxing on the beachside.
Roy Sanyang said he is the founder and initiator of The Gambia Volunteers. According to him, he was born and raised at Bajana Village and went to St John's Primary School in Bulock and St Peter's High School in Lamin.
He later went to the United Kingdom. His Grandfather is the founder of Bajana Village and his parents are still the Alkalo of Bajana Village.
He is a member and supporter of Bajana Congress since its formation in 2005.  Roy Sanyang attends Bajana Congress every year.
He highlighted the reason for the Bajana Marathon, which is to boost and promote the Bajana Congress, which declined in attendance, and by organising the Marathon, it will boost the popularity of Bajana Congress and encourage more people from Bajana Village to attend.
The marathon in Foni will also expose and encourage Foni youth to participate in marathon runs and not to see it as something that happens in Brikama, Serrekunda or Banjul, he added.
As preparation is just at the corner Roy explains the ingredient of this year's programme, saying this year's marathon and congress are not to be missed, as preparations for both events are in high gear.
There will be a cultural display of activities to welcome the runners and those coming to witness the event.
We have invited institutions and embassies in The Gambia to attend," he said. "There will be surprises at this year's marathon as we may see some ambassadors running at the marathon.
"We urge institutions to register by contacting the race coordinator on 6696984. Tourist guides can organise trips to take tourists to the race grounds to see the marathon and the cultural festival. It's all going to happen on the 19th April 2014."
Read Other Articles In Article (Archive)