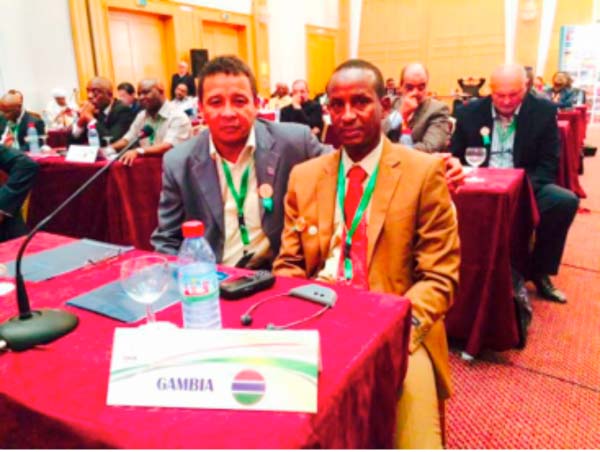 Following the country's recent success in beach volleyball and being honored as among Best Emerging National Federation in Africa 3 executive members of The Gambia Volleyball Federation were recently installed into the New Zone II board of Administration.
GVBF President Yunusa Barry was elected as the 1st Vice President in Zone II, Bai Doudou Jallow the 2nd VP of GVBF was inducted in the refereeing commission and the Press Officer of Gambia Volleyball Federation, Muhammed L. Saidykhan, is also in the Zone II Press Commission which runs from 2015 to 2019.
"We feel so proud and honored to be part of history makers in Gambian sports," Barry said.  "This feat is not a surprised.  It is indeed a great task that lies ahead of us but with hard work and dedication we can realize our dreams."
In his remarks, Bai Dodou Jallow said:  "I am deeply honored to serve my country at the highest apogee and I think this is a great start for Volleyball Gambia in 2016." 
The headquarters of the bureau will be located in Praia, Cape Verde.
The Composition of the Bureau  is as follows: Président, Antonio Carlos Rodrigues of Cape Verde; 1st Vice Président, Yunusa Barry of Gambia; 2nd Vice President, Adrahamane Dembelé of Mali, Secretary General, Mamadou Lamine Ba of Senegal; Treasurer Francisca Lopes Santos of Cape Verde, Judiciary Commission, Brahim Bakar Sneiba of Mauritania, Development Commission Mamadou Lamine Ba  of Senegal, Amadou Seye of Senegal, and Ahmed Kanu of Sierra Leone; Referee Commission Julio Leite of Cape Verde, and Bai Dodou Jallow of Gambia; Press Commission Muhammed L. Saidykhan of  Gambia and Eugenio Teixeira of Cape Verde.
Read Other Articles In Article (Archive)