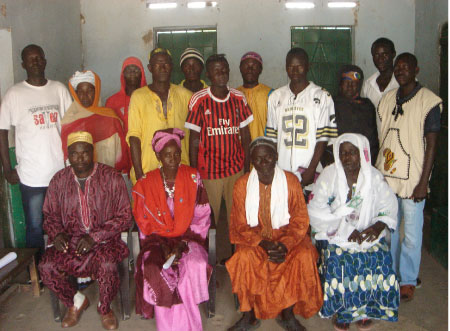 Beakanyang Kafo, a grassroots organisation based in the village of Barrow Kunda in the Upper River Region, has chosen climate change mitigation and women's empowerment to be their main focus areas of intervention in 2013.
The information was revealed by the secretary general and program officer of the organization recently, at a day's strategic planning meeting on its future activities, held at the Beakanyang head office in Barrow Kunda in Wulli West.
According to Nfamara Jawneh, issues such as climate change mitigation and women's empowerment would be the main focus of the organisation in the coming months.
He revealed that the effects of climate change call for effective participation of all and sundry.
He said the organization would, among other things, next year embark on massive tree planting in various communities in the districts, as well as launch community sensitization and environment advocacy programmes.
However, Jawneh stressed that some ongoing programmes, such as education and strengthening democracy and human rights at the grassroots would all be sustained.
Yahya Sumareh, a board chairman of the organization, spoke at length on the importance of the meeting.
He noted that such forums are essential for the attainment of their organisational goals, and urged the participants to actively participate in the deliberations and to come up with sound recommendations that are of importance in achieving their objectives.
Committee members such as Mawdo Barra of Sare Ngai and Manneh Kijera of Sutukonding all spoke at the opening ceremony.
Meanwhile, as part of the event, participants later in the day visited some Beakanyang-sponsored project sites.
At Barrow Kunda Lower Basic school, the delegation was received by Kuntumang Danso, head teacher of the school.
He expressed happiness with the visit by Beakanyang, and applauded the group for their support to his school over the years.
He said Beakayand has helped improve the welfare of the students, and has contributed immensely in achieving quality education in the school.
Mr Danso further appealed for more support in the form of furniture from the association.
The officials of the organisation assured the school authorities of their continuous support, noting that education is a prioty for the group.
In the evening, the participants also visited a coos milling machine provided to the community by Beakanyang thorough US embassy funding.
There they were received by Kawunding Danjo, one of the operators in charge of the project.
He told the guests that the project has created employment opportunities for some youths in the community including himself.
"It has also aleviated the suffering of women in the village," he said.
Beakanyang officials expressed satisfaction with the sattus of the project, and hailed the staff for their hard work and for the proper upkeep of the project.
Read Other Articles In Article (Archive)