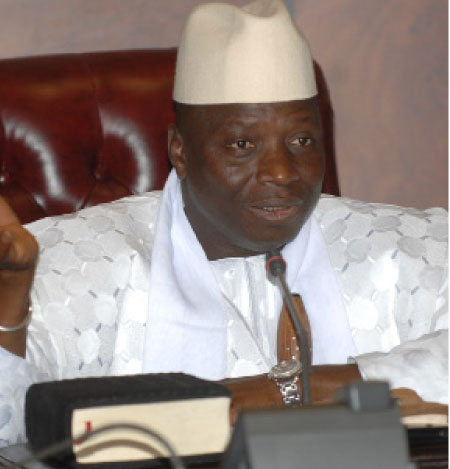 President Yahya Jammeh has spoken of the use of the English language in The Gambia as being a colonial legacy, and declared that the country will "very soon" change to using a local language.
English as the country's official language is the language used in government and the civil service; for debate in the National Assembly chambers; and, in the courts; in business and, it is the medium of instruction in public schools in The Gambia, as well as institutions of higher learning such as the University of The Gambia.
Speaking recently at State House in Banjul, President Jammeh went into another tirade about the British colonial administration in the country.
The occasion was the swearing in of Justice Ali Nawaz Chowhan, a Pakistani national, as the new chief justice of The Gambia.
Jammeh, among other things, said in The Gambia "is the worst story of colonialism…What brought the British in the first place to Gambia, which was bigger than it is now, was the trade in ivory; because the Gambia had a lot of elephants.
"We have even an island called Elephant Island. It was the ivory that brought them. They ended up wiping out the elephants, and then turn round and started selling Africans. The British instituted slavery.
"So now, even for the next one billion years, the British have no moral platform to talk about human rights anywhere in the world; more so to talk about good governance", he continued.
Jammeh went on to cite what he called the "track record" of the British colonial government.
"All they (the British) did was loot and loot and loot", according to Jammeh, who said there is a museum in Birmingham "with arte-facts stolen from The Gambia".
"So if good governance is anything they will have to teach us, one aspect of good governance is honesty. Let them send back to us what they have stolen for 400 years".
Jammeh in his tirade against the British also stated: "The only thing they left us with is, unfortunately, the English language, which we are going to change very soon to a local language, because we no longer believe that, for you to be a government, we should speak a foreign language. We are going to speak our own language". 
Read Other Articles In Article (Archive)