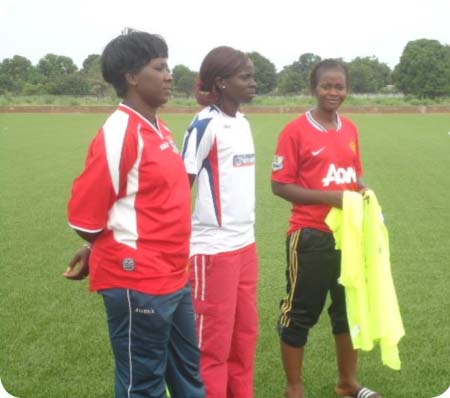 The Gambia female national team is set to take on Guinea Bissau in a friendly encounter to be played in Banjul on Saturday 25 January 2014, a press release issued by Bakary B. Baldeh, GFF Media Officer, has said.
The Gambia Football Federation (GFF) recently finalised talks with its counterparts in Guinea Bissau for a friendly international football match involving its National Women teams, according to the release.
The friendly is at the request of Guinea Bissau, who have lined up series of friendlies geared towards their respective women competitions, the release also stated.
"GFF President Mustapha Kebbeh and his Bissau counterpart have therefore concluded arrangements for the friendly to be hosted by The Gambia on Saturday 25th January, 2014 as a proposed date," the release stated further. "The Gambia will also use the friendly to hone the skills of her Women Team ahead of its qualifier in Africa."
Under the guidance of the GFF technical director, a team has been recruited and was set to start training sessions on Thursday 9 January 2014 at the National Technical Training Centre in Yundum, as of press time.
The release added that coach Mariama Boom Sowe will head the technical team and will be assisted by a backroom staff.
Meanwhile, the provisional list of invited players is as follows: Metta Sanneh, Brikama; Mbasey Darboe, Brikama; Fatou Darboe, S/K East; Veronic Malack, S/K East; Fatou Lowe, Brikama; Sainy Sissoho, S/K East; Ndey Beyai, SK/East; Oumie Harie Gaye, S/K East; Tida Camara, S/K East; Binta Colley, S/K East; Fatou Fatty, S/K East; Mariama Ceesay, S/K East; Adama Tamba, Bakau; Adama Jawo, Bakau; Awa Jawo, Bakau; Awa Tamba, Bakau; Anna Nyassi, Brikama; Fanta Jarju, Brikama; Mariatou Jarju, Brikama; Goal Jawara, Bakau; Awa Trawally, Brikama; Isatou Jallow, S/K East; Aminata Gaye, S/K East; Ajara Samba, Bakau; Aminata Darboe, Brikama; Mama Saidy, S/K West; Clara Gomez, S/K West; Amie Jarju, S/K West; Jarbou Jobarteh, S/K West; Isatou Saidykhan, S/K West; Awa Demba, S/K West; Oley Njie, S/K West; Binta Ngum, S/K West; Mariama Bojang, Bakau; Pulo Bah, Bakau; Adama Cham, S/K West, and Musu Bojang, S/K West.
The number will be trimmed down at the end of their training to cater for the official number of players before going to camp ahead of the friendly on 25 January, the release concluded.
Read Other Articles In Article (Archive)