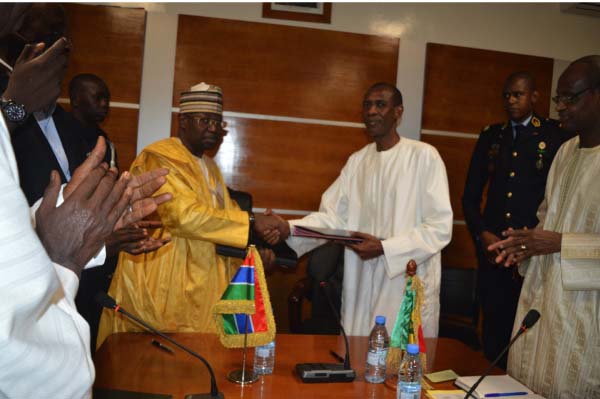 The Interior Ministries of The Gambia and Senegal have agreed to widen security ties, as they signed a joint communiqué that capped a three-day security cooperation summit of the two ministries.

Interior Minister Mai Ahmad Fatty last week led a high ranking delegation of law enforcement leaders to the Dakar summit - at the comradeship of his Senegal counterpart Abdoulaye Daouda Diallo.
Minister Fatty said: "When it comes to security, we must continue to work very closely together. It is important for our countries to improve security co-operation and exchange of information, as we have to deal with the existing security challenges.
Relations between The Gambia and Senegal are expanding and I know the two presidents; President Adama Barrow and President Macky Sall are in close touch as we seek to considerate a relationship that is showing enormous promise."
Minister Daouda Diallo said: "We have a long and deep relationship and our two countries have to nurture this relationship. And we want the security agencies in our two countries to work closely together as we seek to keep our countries safe."
Meanwhile, the joint communiqué underlined the importance of the meeting as it was an opportunity to consolidate and strengthen "the new dynamic cooperation between The Gambia and Senegal, consistent with the political will of the two heads of state".
The communiqué read in part: "They agreed to reinforce security cooperation between the two countries mainly in the area of exchange of information and intelligence, exercise of cross border prosecution, sharing of experiences and good practices, investigations and joint operations and training.
The two minister condemned terrorism in all its aspects and expressed their solidarity towards the victims of the recent attacks that took place in Burkina Faso, Mali and Nigeria. They underlined their quality of cooperation between Senegal and The Gambia in the fight against this scourge and reiterated their resolve to work together to strengthen this cooperation in the mutual interest of the two countries.
Concerning the issue of border management, they underscored the necessity to as soon as possible create the joint border control posts. They also agreed to implement a strategy to fight any form of trafficking, namely humans, drugs and goods."
Read Other Articles In Article (Archive)