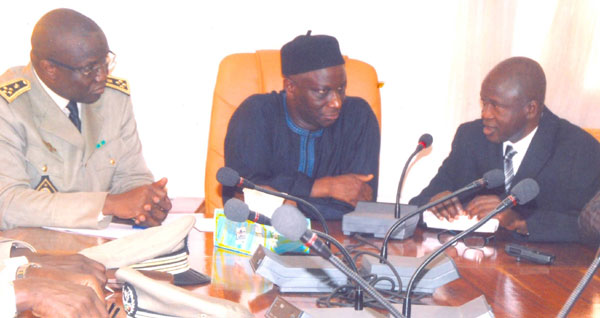 The 7th Bilateral Meeting of Experts of the Gambia Revenue Authority and the Senegalese Customs Administration ended recently in the Senegalese capital, Dakar.
The Gambian delegation was headed by the Commissioner of Customs GRA, Ansumana Trawally, whilst the Director General of the Senegalese Customs Administration, Mouhamadou Cisse, led the Senegalese team.
The meeting, co-chaired by Guidado Sowe of Senegal and Alieu Ceesay of the Gambia, centered on four key points: the finalization of the implementation of the ECOWAS Inter-State Road Transit (ISRT) Convention, the interface of the Customs Automated System, the joint customs post and the exchange of information on offences relating to cross-border trade and smuggling.
On the first point of discussion, both sides recognized the need to implement the ISRT Convention, and agreed to devise a way of implementing it with respect to the conditions on the ground in each of the countries.
It was also agreed that a copy of the Memorandum of Understanding between Senegal and Mali on the implementation of the ISRT should be made available to the Gambian delegation, to serve as a guide in the preparation of a similar MOU between the Gambia and Senegal. The said MOU is expected to be finalized within a period of three months.
On the interfacing of the Customs Automated Systems, both sides agreed to set up a joint sub-committee on IT to work out the modalities of actualizing the system. The Joint Customs Post agreement called for equal contributions from both countries to build customs posts, where both sides work side by side.
To scale down costs, it was agreed that the two trade corridors: Basse - Badiara and Jiboro - Selite should serve as pilot sites for the project.
On information sharing, both sides acknowledged the importance of exchanging information to control cross border smuggling.
The parties agreed that considering the sensitivity of information sharing between nations, it was necessary to come up with an MOU to govern the mode of information sharing between them.
At the end of the meeting, a joint ad hoc committee comprising experts from both sides was tasked to expedite the implementation of the issues agreed on.
After exhausting the main agenda of the meeting, the Gambian delegation raised concern over a number of challenges relating to border traffic between the two neighbours.
Chief among these include the recent incursion into Gambia's territorial waters by Senegalese customs officials in pursuit of smugglers, and the alleged double taxation by Senegalese customs of Gambian dye-cloth traders using the Bamako-Banjul route via Senegal.
The Gambian team also notified the Senegalese side of the interest expressed by some companies in the Gambia to re-export petroleum products to Mali via Senegal.
The Senegalese Customs Administration promised to act on the issues raised upon receipt of a written formal notification from the GRA.
Read Other Articles In Article (Archive)