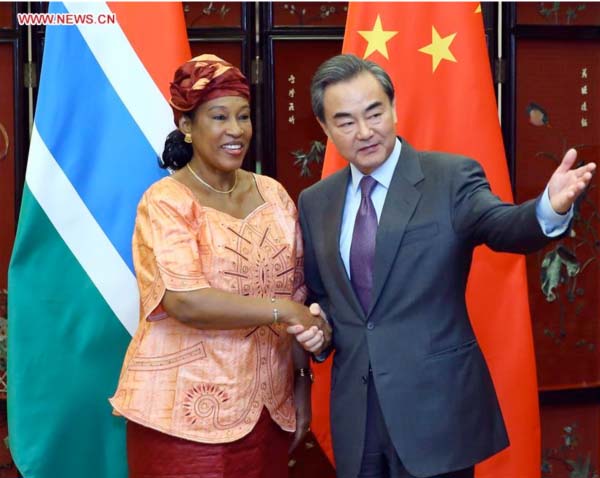 In what would be described as a colourful ceremony, the Hon. Mrs Neneh MacDouall-Gaye, Minister of Foreign Affairs of the Islamic Republic of The Gambia together with her Chinese counterpart His Excellency Mr Wang Yi today signed a Joint Communique establishing diplomatic ties between the two countries at ambassadorial level.
Prior to the signing ceremony held in Beijing, the two Foreign Ministers and members of their delegation held bilateral talks on issues of mutual interest. The meeting which lasted over an hour was centered on key areas of cooperation including agriculture, fisheries, trade and investment, infrastructural development, health, education, aviation and transport, tourism and cultural exchanges and other   specific projects.
The two Foreign Ministers seized the opportunity to recognize and commend the leaders of the two countries – His Excellency Sheikh Prof. Dr Alhaji Yahya A. J. J. Jammeh Babili Mansa and His Excellency Xi Jinping for their political will, exemplary initiative and important decision to re-establish diplomatic relations.
The two Foreign Ministers also held a joint press conference after which Hon. Foreign Minister MacDouall-Gaye and her delegation were hosted to an official banquet by her Chinese counterpart.
As part of her engagements the Honourable Minister was also received in audience by His Excellency the Vice President of the Peoples Republic of China H.E. Mr Li Yuanchao during which they both reiterated their government's desire to closely work together to consolidate the bilateral relations between the two countries at all levels for mutual benefit as envisioned by the leaders of the two countries. 
Earlier on President Yahya Jammeh told CCTV news that China had been helping The Gambia and also respect its sovereignty.
China has boosted a lot of countries' infrastructure and socio-economic development, the President said, as broadcast last night on State TV.
"This is the type of partnership we want, because they invest in your country without interfering in the internal affairs of the country," President Jammeh said, adding: "The sovereignty of the country is respected, the people are respected and it is mutually rewarding."
The two countries cut diplomatic relations in 1994.
Read Other Articles In Article (Archive)