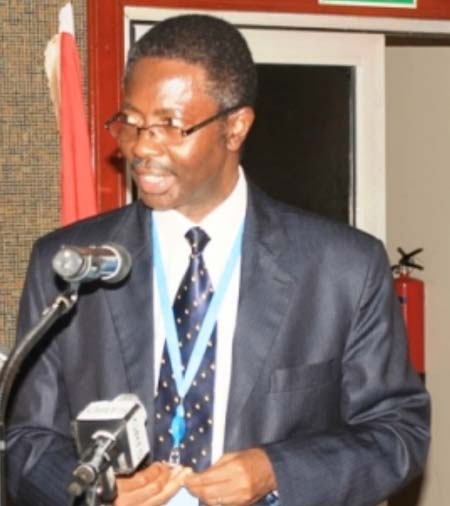 The WHO representative has said The Gambia recorded considerable advances in malaria control over the years.
Dr Charles Sagoe-Moses said the country is implementing nearly all available malaria control prevention and control interventions, such as insecticide-treated mosquito nets, diagnostic testing and antimalarial medicines.
He said the WHO country office will continue to provide guidance on evidence-based strategies to better target malaria interventions, and strengthen the existing health systems towards a malaria-free Gambia.
The WHO official made the statement briefing the media on the forthcoming World Malaria Day (WMD) commemoration.
The event also served as a platform to inform the journalists on the achievements register over the years in malaria reduction.
The briefing was organised by the National Malaria Control Programme (NMCP) and other development partners on Wednesday.
The theme of this year's WMD is: 'End Malaria for Good', and the commemoration is scheduled to take place on 25 April at Farafenni, North Bank Region.
The WHO Gambia representative said this year's theme reflects the vision of a malaria-free world as set out in the Global Technical Strategy for Malaria, 2016-2030.
The strategy, adopted in May 2015 by the World Health Assembly, aims to dramatically lower the global malaria burden over the next 15 years.
Dr Sagoe-Moses said to achieve the targets of the global strategy, annual investment for malaria control needs to triple from current levels, reaching US$8.7 billion annually by 2030.
The Programme Manager at NMCP, Balla Kandeh, said WMD represents a chance for all stakeholders, be it government, a company or an individual, to make a difference.
He said together malaria can be rolled back to help generate broad gains in health and human development.
Mr Kandeh said the Roll Back Malaria (RBM) partnership in The Gambia has been working to mobilise global support and resources to reduce the malaria burden.
"This partnership has been and will remain strong in The Gambia, but there is room for other sectors to join in so that together we can combat malaria.
"The private sector in The Gambia should, therefore, come forward and join the fight against malaria as it is the most competent sector to mobilise the much-needed resources to meet the challenges."
The NMCP programme manager called on all stakeholders to redouble efforts in the fight against malaria by nurturing and strengthening the RBM partnership.
He expressed gratitude to the management and staff of Access Bank Gambia "for giving out a handsome donation" for the commemoration of WMD.
At this year's WMD commemoration, the global malaria community will report on the progress made to save a million lives through the delivery of malaria interventions such as LLINs, RDTs, antimalarial drugs and indoor residual spraying.
Read Other Articles In Article (Archive)