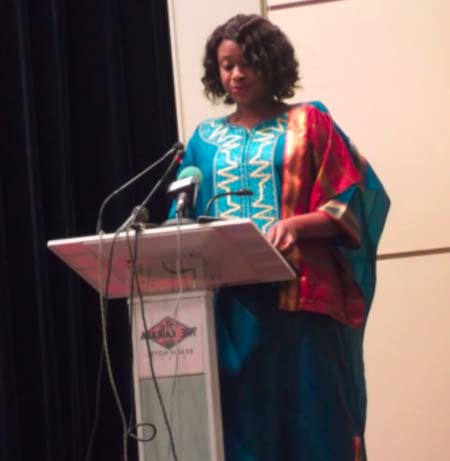 The government of The Gambia has recognised the efforts made by the African Centre for Democracy and Human Rights Studies, ACDHRS, in facilitating the forum to enable NGOs' full participation in the network of the African Commission, which is mandated to oversee the implementation and interpretation of the rights and responsibilities enshrined in the African Charter on Human and Peoples' Rights.
This was said by the Attorney General and Minister of Justice, Mama Fatima Singhateh, at the opening of the NGOs Forum organised by the ACDHRS.
The NGOs Forum under way at the Kairaba Beach Hotel precedes the 56th ordinary session of the African Commission on Human and Peoples' Rights (ACHPR) and the 30th African Human Rights Book Fair, to be held in the coming week at the Kairaba Beach Hotel.
Members of civil society organizations from Africa and beyond together with NGOs have the opportunity to discuss the current human rights and democracy challenges in Africa, as well as review the corresponding strategies to address the identified challenges.
Minister Singhateh acknowledged the crucial nature of the forum bearing in mind the calibre of participants, and recognised the role played by NGOs in today's society.
She said it was pertinent that governments and NGOs work together and consider the responsibility attached to the relationship, for there is strength in unity.
It was only through concerted efforts that they could all overcome the challenges facing "our countries, regions and our continent at large," she said.
While there has been remarkable progress in terms of improving democracy and human rights situation in some areas in the continent, with particular reference to the recent successful elections held in Nigeria, a lot more remains to be done in some parts of the continent, she added.
Africa, therefore, has a long way to go in relation to its development and human rights records, she continued, adding that networking is one of the machinery that keep the world revolving today.
In his statement, the chairman of the ACDHRS, Andrew Chigovera, said the forum would review the human rights situation in various African countries, and the success and challenges in the protection and promotion of human rights in the continent.
He also said the forum would incorporate pressing issues raised by special interest groups, such as the rights of women and human rights defenders, prevention of torture, indigenous peoples' rights, freedom of expression, refugees and internally displaced persons and prisons and conditions of detention, among others.
These are issues that require attention, bearing in mind the role of the African Commission and its mandate to respond to the needs of civil society and the African community at large, he said.
Read Other Articles In Article (Archive)