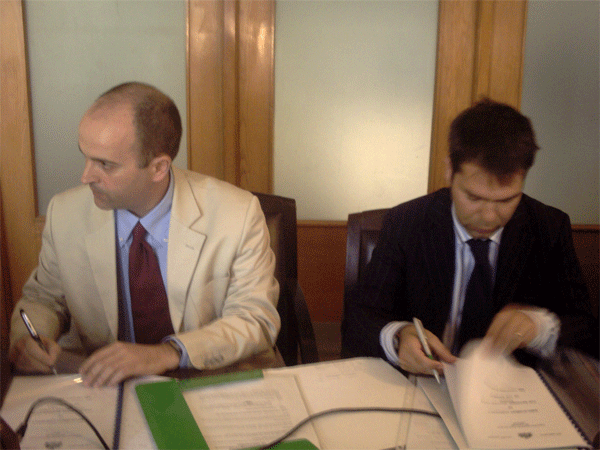 The Department of State for Youth and Sport last Friday signed a two-year contract with two Italian coaches namely the Head Coach of the national U20 team Mr. Lorenzo Rubinacci and Goalkeeping Coach Mr. Franco Crescentini at the Independence Stadium in Bakau.
Speaking at the signing ceremony, Permanent Secretary at the Department of state for Youth and Sport, Mambanyick Njie, said it was through the intervention of President Jammeh that The Gambia was able to secure the services of the Italian coaches noting that President Jammeh has Gambian Football at heart.
Mr. Njie assured the coaches that they will be given all the necessary support, both from his department the GFA and the general public, in order to do their work smoothly.
For his part, the first Vice-President of The Gambia Football Association, Major General Lang Tombong Tamba, thanked the president for finding a coach for The Gambia adding that the president has dedicated all his time for the development of football in TheGambia.
"The coaches and GFA will work collectively as a team and we will give them all the support," he said.
Major General Tamba described the signing as a great day in the history of GFA.
He said The Gambia has achieved much both domestic and international level.
In a brief interview with the press shortly after the signing ceremony both coaches, Lorenzo and Franco, expressed their willingness to work closely with the GFA and the Gambian people.
At the end of the occasion the coaches were officially handed over to the GFA by the officials of the Department of Youth and Sports for them to take charge of their new assignment.
The Goalkeeping Coach Franco Crescentini will be responsible for training the goalkeepers of all National teams.
Read Other Articles In Article (Archive)