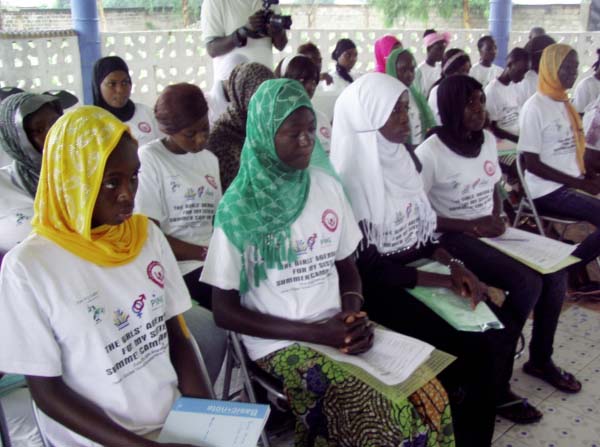 The Gambia needs to do more to decently accommodate the girl-child in the growth of the country, said a local organisation working to ensure the rights and welfare of women and girls are respected.
During a celebration marking the International Day of the Girl Child, 2015, officials of The Girls' Agenda (TGA) said although The Gambia is growing in almost every facet of life, she lags in the promotion and protection of women and child rights.
On Friday, TGA celebrated the international day in form of a symposium to raise awareness of young people on the implications of child marriage and the importance of girls' education.
The celebration, held at Sheikh Hamdan Senior Secondary School for Girls in Yundum, was centred on the theme: "Putting Adolescent Girls at the Centre of SDGs: The Case of Goal 5."
Ida Jatta, programme officer TGA, said The Gambia continues to be stuck in the shackles of social problems such as child marriage despite having in place several policies, legal frameworks and sensitization programmes on harmful traditional practices.
"Within our Gambian context, the phenomenon is more common in rural areas and among girls who are sometimes as young as 12 years at the time of marriage," Ms Jatta said.
"Its prevalence is high among the Fula, Sarahule and Mandinkas (Jahanka) ethnic groups, and the marriage arrangements are made by parents unknown to the girl child," she added.
Several researches have shown that child brides are more likely to be victims of domestic violence and suffer health complications associated with early sexual activity and childbearing.
The way out
Matida Daffeh, finance officer of TGA, said that there is the need to break the cycle of child marriage in The Gambia.
She explained that the only way to break the cycle of child marriage is through education, because that is the best empowerment tool and life insurance of every girl-child.
Ms Daffeh urged the students to take their education seriously and strive harder for excellence, because it is through that they can empower themselves and help their families.
"As young people, you have the right to be educated and protected from child marriage.But at the same time, you have a responsibility to focus on your education and study to pass," she said.
Read Other Articles In Article (Archive)