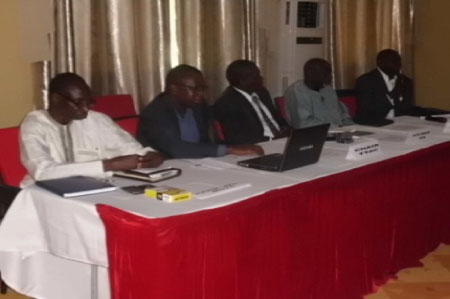 A three-week training of trainers on customer service skills and F and B cost control yesterday kicked-off, at the Paradise Suites Hotel.
The training funded by the Gambia Growth and Competiveness Project (GGCP) is being organised by the Gambia Hotel Association.
Delivering a statement, on behalf of the Minister of Tourism and Culture, Momodou Joof, the Permanent Secretary at the Ministry of Tourism and Culture, said the training came on the heels of similar ones that have recently been conducted by the Ministry of Tourism and Culture and the Gambia Tourism Board for the hotel managers and the Gambia Craft Market Federation.
Permanent Secretary Joofsaid in order for the Smiling Coast to remain competitive and unique as a destination of choice, all the stakeholders in the industry must be seen to deliver high quality service that commensurates with universally-accepted standards.
He further stated that the delivery of high quality services is what will make The Gambia stand out as a good destination that any tourist or traveler would like to visit.
According to Mr Joof, the UNWTO defines quality in tourism as the result of a process, which implies the satisfaction of all the legitimate product and service needs, requirements and expectations of the consumer at an acceptable price, in conformity with mutually-accepted contractual conditions and the underlying quality determinants, such as safety and security, hygiene, accessibility, transparency, authenticity and harmony of the tourism activities concerned with its human and natural environment.
He said any hotel or tourism related establishment is expected to have smart, charming, caring, fast and excellent service providers that are trained to please the consumer or customer and make them sing hotel or tourism praises.
While thanking the Gambia Hotel Association for organising such an important training for trainers on customer service skills, he commended GGCP for funding the programme.
Omar Sarr of the Gambia Hotel Association thanked all those who attended the training, especially the participants.
Read Other Articles In Article (Archive)