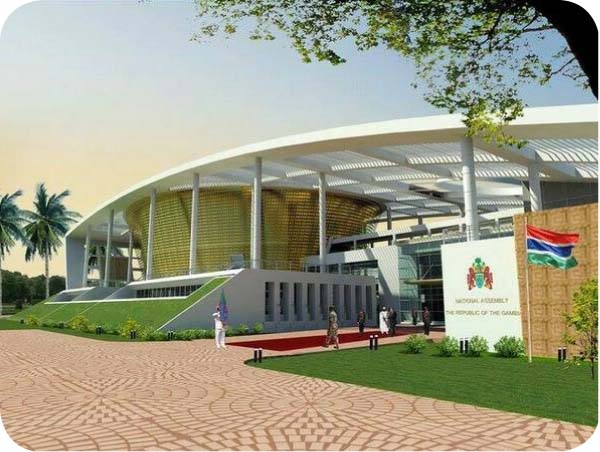 For the first time in the history of The Gambia, the country has a specially-built complex to serve as the National Assembly after 400 years of British colonisation and 30 years of the First Republic, the Gambian leader said whilst inauguratingthe new assembly complex.
"I am deeply honoured to preside over yet another history-making event, the inauguration of the new National Assembly building.
This is the first National Assembly building to be built by any government of The Gambia from the time of colonial rule to the First Republic," President Jammeh said on Sunday while commissioning the new ultra-modern National Assembly complex, financed by the government to the tune of US$27 million through a loan from the Exim Bank of India.
Jammeh said how is it possible that the British government, which is today talking about democracy and human rights in The Gambia, for 400 years never built a National Assembly.
"What does that mean," the Gambian leader asked rhetorically.
"They tell us in those days that we are members of the empire, but we are subjects.It is not a surprise that after attaining our independence, the same trend continued, but then they gave us a semblance of independence and elections.
A clubhouse where they used to drink alcohol and dance was transformed into a National Assembly building for 50 years - 30 years of the former government and 20 years of my government."
The president said National Assembly members as people's representatives deserve to be housed in a very conducive environment, where they can deliberate and work peacefully.
"I want them to enjoy the same facility that members of cabinet enjoy in their offices.
The National Assembly is the custodian of people's empowerment enshrined in the constitution because this is the place where all views, positive and negative are shared," he said.
President Jammeh called for regular maintenance of the complex, saying the complex must be taken care of to ensure its beautiful outlook does not fade.
One of the contractors, Bhupinder Singh, said the journey to the completion of the complex had not actually been smooth all the time.
"We had to face some difficulties along the line, but here we are today, we have overcome many of those challenges," he said.
The Indian ambassador accredited to The Gambia, based in Senegal, Paerha Satpathy, said financing of the National Assembly is one of the most visible symbols of friendship that the government of India has with the people and Government of The Gambia.
The commissioning of the new ultra-modern edifice was part of activities marking 20 years since President Jammeh came to power, and it was attended by the president of Guinea Bissau, Jose Mario Vaz, and many other diplomats and senior government officials.
The complexhouses various offices and a chamber that can accommodate up to 400 guests, an auditorium with a capacity for about 150 persons, among other facilities.
Read Other Articles In Article (Archive)