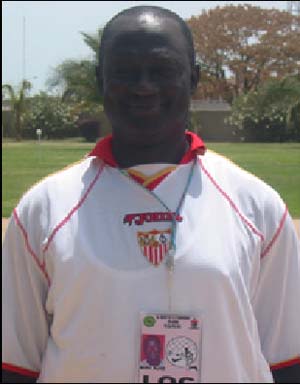 Alhaji momodou Njie, widely known as Biri Biri who is described by many football pundits worldwide as one of the greatest footballers during his playing days has extended his profound gratitude and appreciation to the Gambian leader for awarding him as the most outstanding sports personality for 2009.
Biri has continued to gain international recognition worldwide, including England and Spain where he enjoyed the best part of his professional career and still has fans club named after him in Sevilla in recognition of his outstanding achievement during his stay in Spain.
The Gambian leader is understood to have been a great admirer of the country's most popular professional player.
Biri whose face was beam with joy during this interview told Pointsport that President Jammeh has made him new Biri-Biri when he first appointed him as the Deputy Mayor of Banjul City Council when he took the reins of power in 1994, in recognition of his endless services towards the development of sports in the country, particularly football.
'I cannot pay President Jammeh for what he has done for me because he has taken me to another level and this latest award is a clear testimony to the fact that he has done every thing to make sure that the whole country remembers me once again," the elated Biri-Biri told our reporter on Sunday.
"I would like to express my happiness for President Jammeh's award and it will go down into my history book because it has coincided with another historic occasion which is the hosting of the Coca-Cola FIFA World Cup trophy tour for the first time in the history of our sports and I will remember this memorable day for the rest of my life," Biri pointed out.
Biri-Biri started his football career with St. Mary's Primary School in mid 50s and moved to Albion and Stanley schools in Banjul, respectively.
He attended Crab Island Junior Secondary School in the early 60s and was an instrumental figure during his 4-year spell in the school before proceeding to play for Black Star in the GFA first division team from 1962-1963, before earning a quick promotion to another GFA Division One side Black Diamond.
Due to his loyalty and outstanding performances, Biri was offered an engine driving role with another Division One team, called Arrances but he played only one season for the team before switching to Wallidan shortly after returning home from Derby County for a trial in the then English first division.
In 1978, he helped Sevilla earn promotion to the 1st Division, the club he described as the most successful club he has ever played for.
With his three-year contract expired in 1976, Biri was tied down to another 2 year professional contract with Sevilla that expressed their desire to extend the service of one of the symbol of the club at that time.
The 62-year-old was invited to attend a festive in Sevilla by his fellow football legend Maradona who also gave word of praises to Gambian superstar and went ahead to honour him with the Number 10 jersey in appreciation of his outstanding achievement for the club during his time with the Spanish Division One giants.
Biri described his winning goal in The Gambia's victory against Senegal as his memorable goal after dribbling pass more than 7 players to record another historic moment for the Scorpions in Dakar as far back in 1965.
Read Other Articles In Article (Archive)