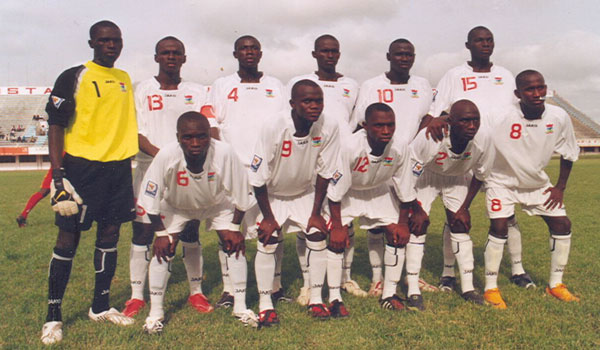 Friday's draw of the 2009 FIFA U-17 World Championship has pitched African Champions, The Gambia U-17 in group C alongside Iran, Netherlands and Colombia.
The Gambia will have their first taste of the championship on Sunday 25th October against Iran in Calabar in Group C opener.
The Baby Scorpions' second opponents will be a more familiar side, The Netherlands, on Wednesday October 28th 2009.
The Gambia will wrap up its Group C clash against Colombia on Saturday October 31st .
After two days rest, the second Round of 16 teams will commence on Wednesday November 4th 2009.
The quarter finals of the championship are set for Sunday November 8. Lagos and Abuja will host the semi finals and finals billed for November 12 and 15th respectively.
Two-time African champions, Gambia, will prepare in the United Kingdom for a month before they move to Ghana for another two weeks of training ahead of the FIFA Under-17 World Cup in October.
The President of the Gambia Football Association (GFA), Seedy Kinteh, disclosed that the Darling U-17 will be in the UK for all of September, after which the team will spend two weeks in October in Ghana.
Gambia is expected in Nigeria on October 14, 10 clear days before the big kick-off.
The tournament will be played in Abuja, Bauchi, Calabar, Enugu, Ijebu-Ode, Kaduna, Kano and Lagos from 24 October to 15 November 2009. 
The Nigeria and Gambia U-17 friendly match that was scheduled in Banjul could not hold as the Nigeria side who failed to turn up were said to have ineligible players who are above 17.
Match Schedule
Sat 24-10-09
Abuja A   - Nigeria Vs Germany
Abuja A  - Honduras Vs Argentina
Lagos B - Brazil VS Japan
Lagos B - Mexico Vs Switzerland

Sun 25-10-09  
Calabar C - Iran VS Gambia
Calabar C - Colombia Vs Netherlands
Enugu D - Turkey Vs Burkina Faso
Enugu D - Costa Rica Vs New Zealand

Mon 26-10-09   
Kano E - United Arab Emirates Vs Malawi
Kano E - Spain Vs United States
Kaduna F - Uruguay Vs South Korea
Kaduna F - Algeria Vs Italy

Tuesday 27-0ct-09    
Abuja  A - Argentina Vs Germany
Abuja A - Nigeria Vs Honduras
Lagos B - Switzerland Vs Japan
Lagos B - Brazil Vs Mexico

Wednesday 28-Oct-09
Calabar C - Netherlands Vs Gambia
Calabar C - Iran Vs Colombia
Enugu D - New Zealand Vs Burkina Faso
Enugu  D - Turkey Vs Costa Rica

Thursday 29 Oct-09
Kano  E - USA VS Malawi  
Kano  E - United Arab Emirates Vs Spain
Kaduna F - Italy Cs South Korea
Kaduna F - Uruguay Vs Algeria

Friday 30 Oct-09 
Abuja A - Germany Vs Honduras
Bauchi A - Argentina Vs Nigeria
Lagos  B - Japan Vs Mexico
Abuja B - Switzerland Vs Brazil

Saturday 31 Oct-09
Calabar C - Gambia VS Colombia
Enugu  C - Netherlands Vs Iran
Enugu D - Burkina Faso Vs Costa Rica
Calabar D - New Zealand Vs Turkey

Sunday 1 Nov-09
Kano E - Malawi Vs Spain
Ijebu-Ode E - USA Vs UAE
Kaduna F - South Korea Vs Algeria
Kano F - Italy VS Uruguay

Wednesday 4 Nov-09 R-17
Ijebu-Ode- 2nd A Vs 2nd C- W1
Enugu - 1st D Vs 3rd from B, E or F- W2
Lagos 1st B Vs 3rd from A, C or D-W3
Kaduna  1st F Vs 2nd E - W4

Thursday 5 Nov-09
Kano - 1st E Vs 2nd D - W5
Calabar - 1st C Vs 3rd from A, B, or F- W6
Bauchi - 2nd B Vs 2nd F - W7
Abuja - 1st A Vs 3rd from C, D or E - W8

Sunday 8 Nov-09 Quarter-final
Bauchi - Winner 1 VS Winner 2 - WA
Ijebu-Ode - Winner 3Vs Winner 4 - WB

Monday 9 Nov-09
Kaduna - Winner 5 Vs Winner 6 - WC
Calabar - Winner7 Vs Winner 8 - WD

Thursday 12 Nov-09 - Semi-final
Lagos - Winner A Vs Winner B
Lagos - Winner C Vs Winner D

Sunday 15-Nov-09 Final
Abuja -Third Place - Loser 49 Vs Loser 50
Abuja - Final - winner 49 Vs winner 50
Read Other Articles In Article (Archive)